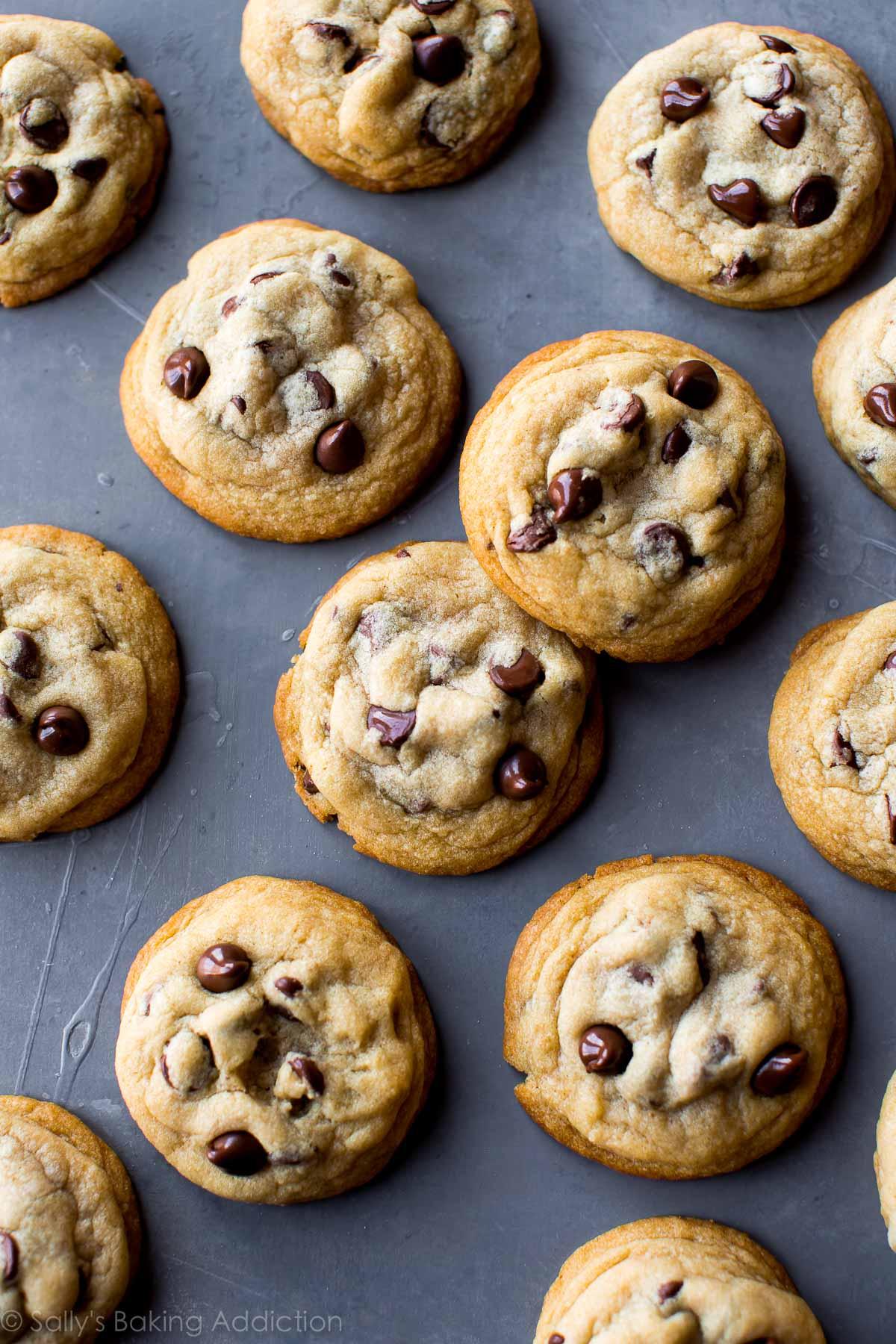 May 09, 2023
chocolate chip cookie recipes
During my research, I looked into several Reddit discussions where users shared their favorite chocolate chip cookie recipes, their experiences with these recipes, and modifications they've made to improve the recipes. There was no clear consensus on the absolute best recipe, as preferences varied, but many users provided helpful suggestions and tips for improving the recipes. The sources I found were all related to the original query, and the information provided is based on the experiences of the users who participated in these discussions.
---
Jump to research
Composed by
S. H.
Have an opinion? Send us proposed edits/additions and we may incorporate them into this article with credit.
---
---
Jump to top
Research

"Best chocolate chip cookie recipe for beginners?"
Post Title: "Best chocolate chip cookie recipe for beginners?"
Date: 5 months ago
Subreddit: r/Cookies
Score: 6 points
Poster's experience: Baking for 5 years but unable to perfect homemade chocolate chip cookies
Poster prefers chewy texture and plans to use brown butter
Comments:

First user recommends the Nestle Tollhouse recipe; takes it out a few minutes early
Another user suggests a super easy recipe: cream butter, granulated sugar and brown sugar, eggs and vanilla, add AP flour, baking soda, salt and chocolate chips; bake at 375 for 8-10 minutes
Another user follows the same recipe but with one egg and 2 1/4 cups flour
A user recommends King Arthur Flour's website for cookie recipes; some more complicated, but some are great for beginners
Another user recommends the Preppy Kitchen recipe on YouTube
A user asks about Sally's Baking Addiction recipe, which is highly recommended by other users
Another user confirms that brown butter would work for Sally's Baking Addiction recipe
A user encourages poster to weigh ingredients with a scale and to chill the dough overnight
User suggests trying milk chocolate in Sally's Baking Addiction recipe
Another user agrees that the recipe is the best one and suggests browning butter for even better results
Users suggest chilling the dough, regardless of which recipe is chosen

Links:
Advice from users on achieving the best results:

Follow the recipe exactly, but it's okay to make minor flavor alterations
Weigh ingredients with a scale
Chill the dough overnight
Read the recipe thoroughly first
Use a mise en place

"I made the best chocolate chip cookies of my life thanks to a redditor's recipe!"
User posted a recipe for the best chocolate chip cookie recipe on Reddit.
The recipe calls for all-purpose flour, baking soda, salt, unsalted butter, light brown sugar, granulated sugar, 1 large egg, vanilla extract, and 2 1/4 cups of chocolate chips.
Preheat the oven to 350°F and line baking sheets with parchment paper.
Combine the flour, baking soda, and salt in a separate bowl before adding to mixture in the large bowl.
Beat the butter and sugars until smooth for about 2 minutes.
Add the egg and vanilla to the butter and sugar mixture and mix on low until incorporated.
Gradually add the flour mixture and mix until just combined, then add chocolate chips.
Use an ice cream scoop to drop the dough onto the prepared baking sheets.
Bake the cookies at 350°F for 10-13 minutes until the bottoms and edges are lightly browned, and the tops feel firm when lightly touched.
The recipe was posted 4 years ago and received 643 points.
There are multiple comments on the post, many with tips or variations of the recipe.
One user recommends trying half semi-sweet and half milk chocolate chips.
Another user recommends using mini chocolate chips for better distribution.
A few users suggest variations of the recipe, including using oats or different types of flour.
Some users suggest adding nuts, M&Ms, or sea salt flakes on top of the cookies.
One user suggests combining dark, regular, and mini chocolate chips for the perfect cookie.
Another user recommends using the America's Test Kitchen Ultimate Chocolate Chip recipe instead.
A user also suggests using the Neiman Marcus $250 Cookie recipe, which includes chopped nuts and oats.
The recipe can be made with gluten-free flour.
One user criticizes American's for butchering the French language.
A few users mention that the recipe is a classic, no-nonsense recipe that yields delicious results.
Many users express excitement to try the recipe or say that they have tried and loved it.

"Soft and Chewy Chocolate Cookies - Completely Delicious"
Not used in article

"Best Chocolate Chip Cookies - Dear Crissy"
Not used in article

"Our 13 Best Chocolate Chip Cookie Recipes - New York Times"
Not used in article

"Best Chocolate Chip Cookie Recipes of All Time"
Not used in article

"What's the best chocolate chip cookie recipe you know?"
A Reddit user is looking for the best chocolate chip cookie recipe better than the pre-mixed ones
The user tried a recipe that uses half shortening and half butter for the fat and another recipe found on the back of a package of chocolate chips
One Reddit user suggested Sally's Baking Addiction recipe that includes three recipes, one for chewy, one for soft, and one for crunchy
Another Reddit user indicated that chocolate chip cookies are a matter of personal taste and shared an article that tested popular recipes ranked differently by two groups of testers. The article suggests trying the recipes the author recommends and working down her list
A Reddit user suggested using New York Times recipe that uses two types of flour and adding both milk and semi-sweet chocolate
Another Reddit user indicated Martha Stewart recipes for chocolate chip cookie bars, oatmeal chocolate chip, and other exotic ones
A Reddit user indicated that his go-to favorite recipe is from CafeDelites that uses brown butter and maple syrup
Another Reddit user suggested an eggless recipe from Mel's Kitchen Cafe that does not need eggs and gluten-free recipe from The Big Man's World
Finally, a Reddit user suggested trying America's Test Kitchen recipes that include two versions, regular and crispy, and the brown butter recipe where you mix the batter three separate times
The audiences involved in the discussion are Reddit users in the Baking subreddit who volunteered information about their chocolate chip cookie recipe preferences
Each recommendation links to a specific recipe page found on external websites such as Sally's Baking Addiction, Pancake Princess, New York Times, America's Test Kitchen, CafeDelites, Mel's Kitchen Cafe, The Big Man's World, Martha Stewart, Sugar Spun Run, and King Arthur Baking
In addition to the recipes, some Reddit users provided personal insights on their preferred variations to the recipes such as using brown butter and maple syrup, adding milk and semi-sweet chocolate, or using both white and brown sugar
The Reddit users' comments form a valuable resource for people looking for the best chocolate chip cookie recipe that suits their personal taste and dietary requirements.

"Found Tate's recipe, decided to try it myself. Very happy with the results"
A Reddit user posted a photo of their chocolate chip cookies and detailed how they used Tate's chocolate chip cookie recipe.
A different Reddit user requested the recipe and was provided with a link to the recipe source on Bon Appétit's website.
The recipe attributed to Tate's Bake Shop Cookbook by Kathleen King yields 4.5 dozen 3-inch cookies.
The ingredients for the recipe are as follows:

2 cups all-purpose flour
1 teaspoon baking soda
1 teaspoon salt
1 cup salted butter
3/4 cup sugar
3/4 cup firmly packed dark brown sugar
1 teaspoon water
1 teaspoon vanilla
2 large eggs
2 cups semisweet chocolate chips

The steps to make the cookies are:

Preheat the oven to 350 degrees F.
Grease two cookie sheets or line them with Silpat.
In a large bowl, stir together the flour, baking soda, and salt.
In another large bowl, cream the butter and sugars.
Add the water and vanilla.
Mix the ingredients until they are just combined.
Add the eggs and mix them lightly.
Stir in the flour mixture.
Fold in the chocolate chips.
Don't over-mix the dough.
Drop the cookies 2 inches apart onto the prepared cookie sheets using two tablespoons or an ice cream scoop.
Bake them for 12 minutes or until the edges and centers are brown.
Remove the cookies to a wire rack to cool.

Tips mentioned by the Reddit user who tried the recipe:

Use gold medal flour for better results.
Bake for 15 minutes instead of 12.
Use 2 tsp vanilla and skip the water for a richer taste.
Flattening the dough before baking helps make the cookies thinner and less chewy in the middle.

Other Reddit users also chimed in with comments expressing appreciation for the recipe and asking about other recipes.
Tate's Bake Shop was founded in 2000 and the cookies are made with premium ingredients.
Tate's Bake Shop has won numerous awards and has been featured in various media outlets.
Tate's Bake Shop is based in Southampton, New York, and offers baked goods, cakes, and gift baskets.
The website includes online ordering and a store locator

"Joshua Weissman's Ideal Chocolate Chip Cookie"
Joshua Weissman's Ideal Chocolate Chip Cookie recipe with clear instructions and photos of the final product.
Ingredients needed, with exact measurements in grams and teaspoons.
Specific brands/types of ingredients recommended by the author.
Link to a video tutorial with additional tips for making the recipe.
User comments on modifications they've made to the recipe, such as cutting back on vanilla extract or adding sourdough starter discard.
Browned butter is suggested as an alternative to melted butter in the original recipe.
Discussion on the benefits of browning butter, including reduced moisture content and increased chewiness.
User questions on the recipe, such as how many cookies the recipe yields.
User answers to question, indicating that the author of the recipe got about 8-9 cookies in the video tutorial.
Picture of the cookies made by a user who tried the recipe, with a description of their personal experience making the cookies.
Discussion on using a mixture of dark, semi-sweet, and milk chocolate, depending on personal preference.
User comments on the vanilla extract, with some saying that the amount called for is too much and can overpower the other flavors.
Recommendation to use dark brown sugar instead of light brown sugar for a richer flavor.
User recommends weighing the flour instead of using cups to ensure accuracy in the recipe.
Call to check out Joshua Weissman's other content for more cooking tips and inspiration.
Recipe does NOT actually use chocolate chips, but rather chunks of dark chocolate with 60-70% cacao.
Links to other recipes on the subreddit that users recommend trying, such as Perfect Mac and Cheese.

"We Taste-Tested and Ranked 8 Chocolate Chip Cookie Recipes"
Not used in article

"Best Chocolate Chip Cookie Recipes - TastingTable.com"
Not used in article

"We Held A Chocolate Chip Cookie Taste-A-Thon"
Not used in article

"Ultimate Chewy Chocolate Chip Cookies - Handle the Heat"
Not used in article
💭 Looking into
Tips for baking the perfect chocolate chip cookies
💭 Looking into
5 popular and well-reviewed chocolate chip cookie recipes