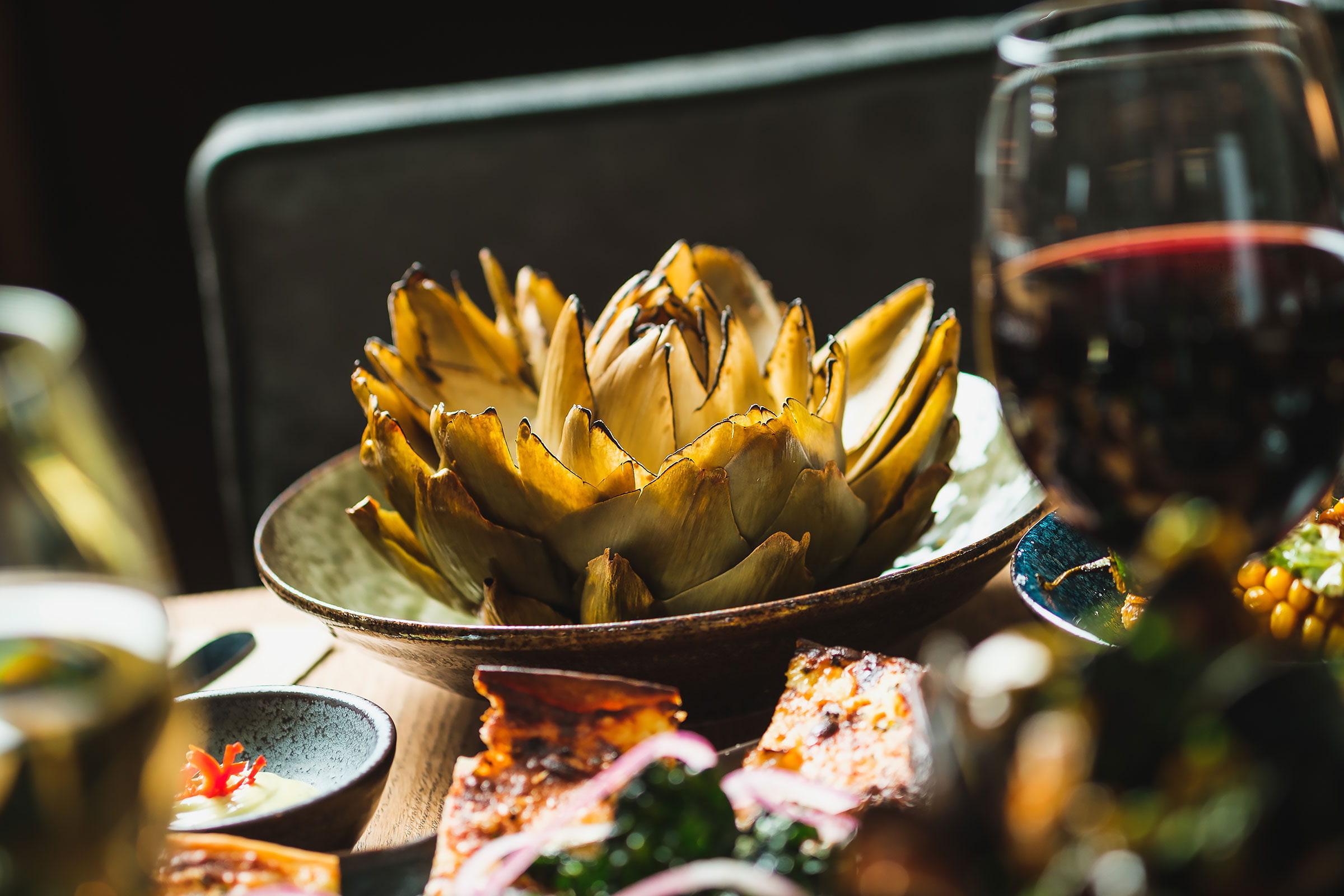 June 19, 2023
veggie restaurants in stockholm
During my research, I read several Reddit threads discussing vegetarian and vegan-friendly restaurants in Stockholm. Some threads were specifically about vegetarian restaurants, while others focused on restaurants with good vegetarian options. The sources varied in their recency, but all provided relevant recommendations and user opinions. There was a fair amount of consensus on some restaurants, but also some disagreements between users. Overall, the research provides a good starting point for exploring vegetarian dining options in Stockholm.
---
Jump to research
Composed by
S. S.
Have an opinion? Send us proposed edits/additions and we may incorporate them into this article with credit.
---
---
Jump to top
Research

"Does anyone know any places with great vegetarian food? Don't know Stockholm much yet but really want to try more"
A Reddit thread titled "Does anyone know any places with great vegetarian food? Don't know Stockholm much yet but really want to try more" on the r/stockholm subreddit.
The post is dated from 1 year and 2 months ago and has 12 points.
A user recommends Hermans Vegan Buffet as a restaurant with great views, but other users comment on the food quality, ranging from school lunch-level to just good but not great.
Other users recommend restaurants such as Kokyo, Chou Chou, Lao Wai, Reggev Hummus, Taku-Taku, Mahalo, Växthuset, Chutney, and Veganska Ölbaren.
Some users point out that Indian restaurant Savarna Bhavan is no longer in business, and that Burgerian Falafel and Restaurang Oxenstiernan offer vegetarian options as well.
One user suggests La Piccola Nonna for vegetarian pizza and Veganska Ölbaren as the best vegan food spot in town.
One user advises against a pizzeria claiming to be the best in Sweden, while another recommends Bastard Burger and Blue Light Yokohama for ramen.
Some users discuss the availability and quality of plant-based options at restaurants such as Burgerian Falafel and Bastard Burger.
One user links to an article criticizing Masala Masala and another user removes the restaurant from their list of recommendations.
Some users suggest that Hermans may be overcrowded and overrated, but it still receives multiple recommendations.
Some users express disagreement with each other's recommendations.
The thread also contains some off-topic comments, including one about music and one sarcastic comment taking the opposite stance of the thread's topic.

"Is Stockholm vegetarian-friendly?"
Reddit post in r/TillSverige: "Is Stockholm vegetarian-friendly?"
One user says it's super easy to be a vegetarian in all of Sweden.
Any regular restaurant should have vegetarian options unless it has a very specific meat profile.
Vegetarian options are usually on the cheaper end of the menu but still not cheap.
Another user says compared to California, Stockholm is not very vegetarian-friendly, but compared to Texas, it is.
Another user says that most restaurants have several vegetarian options, but the menu will have few options to choose from.
There are vegetarian-only restaurants in Stockholm with world-class food.
Vegetarian options are available at fast-food restaurants in Stockholm.
It's easy to be vegetarian in Stockholm, according to another user, and there is a lot of variety.
Another user says that grocery stores in Sweden have more vegetarian options compared to Quebec.
One user, with -8 karma, joked that vegetarians are normally shot on sight.

"Must-eat Foods In Stockholm | City Unscripted"
Not used in article

"when you quadruple check with the restaurant about ingredients and preparation, and still... happy friday 🥳"
The webpage contains user comments about a device called Nima that tests for gluten in food
Some users express that Nima is unreliable

False positives are a common issue
Poor sampling technique could lead to missing gluten

Other users find Nima to be helpful for providing peace of mind while eating out
Nima is expensive and not endorsed by any major Celiac group
No third-party research exists on Nima's effectiveness
Some users express frustration with restaurants and cross-contamination of gluten
Commenters mention the FindMeGlutenFree app as a resource for finding gluten-free restaurants
One user recommends leaving reviews on the app to help others with Celiac disease
Another user mentions the Canadian Celiac Association as a credible source for information on gluten-free products and services
There is a debate among users on whether eating out is safe for those with Celiac disease
Some believe that eating only food prepared in front of them is the safest option
Others believe that using a device like Nima or researching and communicating with restaurants can provide a reasonable level of safety
Users advise caution when using Nima and emphasize the importance of personal research and decision-making

"Stockholm for Vegetarians and Vegans - Slow Travel Stockholm"
Not used in article

"What buffs do the different restaurants give and how are the different meals made?"
Not used in article

"The 10 Best Vegetarian Restaurants in Stockholm (Updated 2023)"
Not used in article

"Best vegetarian or vegetarian-friendly restaurants in Singapore. A list of places + why they're great & what to order (all suggestions from local Redditors in 5 previous posts on this topic)"
This webpage is a Reddit post titled "Best vegetarian or vegetarian-friendly restaurants in Singapore"
The post is from 5 months ago and has 31 points
The post includes a list of vegetarian-friendly restaurants in Singapore, with a brief description of each and any specific dishes that are recommended
The restaurants are drawn from recommendations made in 5 previous Reddit posts on the same topic in r/vegetarian and r/AskSingapore
Specific restaurants, along with details about each one, include:

Afterglow: no red meat, vegan
Anjappar: some vegetarian options, not fully veg
Annalakshimi: Indian vegetarian buffet, pay any amount
Boneless kitchen at tai Seng: vegetarian Korean cuisine
Ci Hang in Geylang: Buddhist vegetarian cuisine, modern vegetarian dishes
Coco Veggie Nyonya: Malaysian Chinese vegetarian
Cultivate Cafe at Maxwell: also serves meat, vegan options
Dlife: chain with vegetarian and vegan options
Eight Treasures Vegetarian Restaurant: good Chinese-style vegan food
Empress: Chinese food with veg options, dim sum buffet with veg menu
Elemen: popular vegetarian chain, various locations
Firangi Superstar: Indian fusion
Flavours at funan: Singaporean vegetarian food
Gokul Raas at Dickson road: Indian vegetarian, inexpensive
Greendot: several outlets, casual, veg laksa and mushroom rendang
Hans im gluck: variety of vegan/vegetarian burgers
Herbivore at fortune centre: vegetarian Japanese cuisine
Jaan By Kirk Westaway: Michelin star fine dining, veg options
Jinhoten: Japanese omakase, chef will design vegetarian experience if informed in advance
Joie at Somerset: fancy vegetarian fine dining
Koma: has veg options
Komala Villas: Indian vegetarian, good dosas and biryani
LingZhi at Liat: affordable Chinese style vegetarian high tea
Lotus Vegetarian at Royal Square Novena: vegetarian with vegan options, good for groups
Love Handle: vegetarian with great burgers
Marguerite: accommodating to various dietary restrictions
MTR at Serangoon road: affordable South Indian cuisine, vegetarian options
Murugan Idli in

"https://viewstockholm.com/stockholm-best-vegetarian-restaurants/"
Here are my notes based on the webpage:
Green food is becoming increasingly popular in Stockholm
The guide lists the 10 best vegetarian and vegan restaurants in Stockholm, along with their descriptions and addresses
Almost every restaurant in Stockholm has vegetarian options on the menu
The guide includes links to a guide focused on vegan restaurants and a "missing restaurants" form
Maxos is a falafel bar in Kungsholmen that serves fresh homemade falafel, hummus, halloumi, tabouli, sweet potatoes, fried cauliflower, and more
Chutney is one of Stockholm's oldest vegetarian restaurants, with inspirations from the Middle East and Asia, offering both vegetarian and vegan options
Hermans is a completely plant-based buffet-style restaurant offering hot and cold dishes that are not the typical Swedish fare, as well as salads, homemade bread, organic beer, organic soda, kombucha, and freshly-made smoothies
Rutabaga is located at the five-star Grand Hôtel and offers the next generation of lacto-ovo-vegetarian cuisine inspired by worldwide cuisines, focusing on fresh, quality ingredients that transform into exciting world-class vegetarian dishes with either an à la carte menu or the vegetarian tasting menu.
Växthuset creates its food with a focus on quality and seasonal ingredients and offers primarily biodynamic wine and non-alcoholic alternatives
Lao Wai is a vegan Chinese homestyle cuisine restaurant that serves a small, but delicious variety of fresh ingredients
Farang in Vasastan offers a fantastic, carefully composed vegetarian tasting menu with Asian flavors that is handcrafted from quality ingredients
Fern & Fika is an organic vegan café that offers a high-quality plant-based experience with a menu full of goodies and no gluten, dairy, or sugar
Hermitage serves excellent vegan food in the form of a buffet and regular menu with rice balls and lentil soup and is located in the heart of Old Town (Gamla Stan)
Légumes offers an affordable buffet and veggie sandwiches in Södermalm that take inspiration from Mediterranean cuisine, with several vegan options and a beer and wine menu
Tabbouli offers authentic oriental dishes with exciting oriental flavors with about 40 small dishes and grilled dishes with generous portions.

The guide provides brief descriptions of each restaurant, including the type of vegetarian food (vegan or lacto-ovo-vegetarian), address, and a summary of their highlights and delicacies.

"Restaurants with enough vegetarian/vegan choices but also good choices for a meat lover"
The post on Reddit titled "Restaurants with enough vegetarian/vegan choices but also good choices for a meat lover" was created 1 year and 4 months ago.
The post has 15 points.
Users on the post left several recommendations for restaurants in Stockholm with a variety of vegetarian and vegan options as well as meat options.
Users recommend Holy Cow for Indian food. It is noted they have a vegan menu and has 16 karma.
Brasserie Godot was recommended for having at least two vegan options and additional good non-vegan options by a user. The user's wife used to be vegan and they went there often. It is noted that Bonnie's is also a good option and they have ten karma.
Bastard Burgers was recommended for having both vegan and meat menus. It has eight karma.
Hawaii Poke chain was also recommended. The user did not note the specific locations for it. It has three karma.
Fotografiska and Bistro at Fotografiska are recommended for having green/veg options but meat options available to add in after. It has five karma.
Kokyo has the same size vegan and non-veg menus while Minh Mat has good vegan and non-veg options. It is noted that Veganistan is a great resource for finding other vegan-friendly restaurants overall. The former two have three karma.
Farang and Bistro Godot recommended by users. They have three karma and two karma respectively.
Oummi, Sweet o Salti, Restaurang Art, and Dirty Vegan are recommended by users. Oummi, Sweet o Salti, and Restaurang Art have two karma and Dirty Vegan has one karma.
Yuc is recommended at their original location only. It is a South American tapas restaurant with good meat and veg options. It has one karma.
Eatnam is recommended for having a variety of vegan options and a delightful pho dish. It has one karma.
Herman's is an all-vegan restaurant, recommended for being diverse enough to cater to most meat lovers. It has zero karma.
Some users mentioned that the recommended restaurants also had non-alcoholic drink options available.

"Restaurants with good vegetarian options?"
The Reddit thread titled "Restaurants with good vegetarian options?" has 5 comments from a year ago, with a total of 18 karma.
One user recommends Max, the hamburger chain.
Another user suggests that most places in Stockholm have good veggie options, and recommends looking for good restaurants in general instead of specifically vegetarian ones. They also mention that they found some vegetarian restaurants like Hermans to be subpar.
Another user suggests going to the "Community info" section of the r/stockholm subreddit for a link to restaurants and bars.
Another user recommends Lao Wai, a veggie-only Chinese restaurant, and specifically mentions their mapo tofu dish. They note that it's a bit expensive but worth it.
Another user recommends the Happy Cow website/app for finding vegan restaurants, but another user mentions that they have had issues with its accuracy.
Another user recommends Hermans and Chutney as their personal favorites.
Another user recommends La Piccola nonna pizza.
Another user suggests that Indian restaurants are the best for vegetarian food in Stockholm, and notes that they don't think you can get well-cooked vegetarian food in any Swedish restaurants.

"The 10 Best Vegan Restaurants in Stockholm (Updated 2023) - Tripadvisor"
Not used in article

"The best vegetarian & vegan restaurants - Visit Stockholm"
Not used in article
💭 Looking into
A research-based article on the health benefits of vegetarianism
💭 Looking into
Best vegetarian dishes to order when eating out in Stockholm
💭 Looking into
A list of top 5 vegetarian restaurants in Stockholm