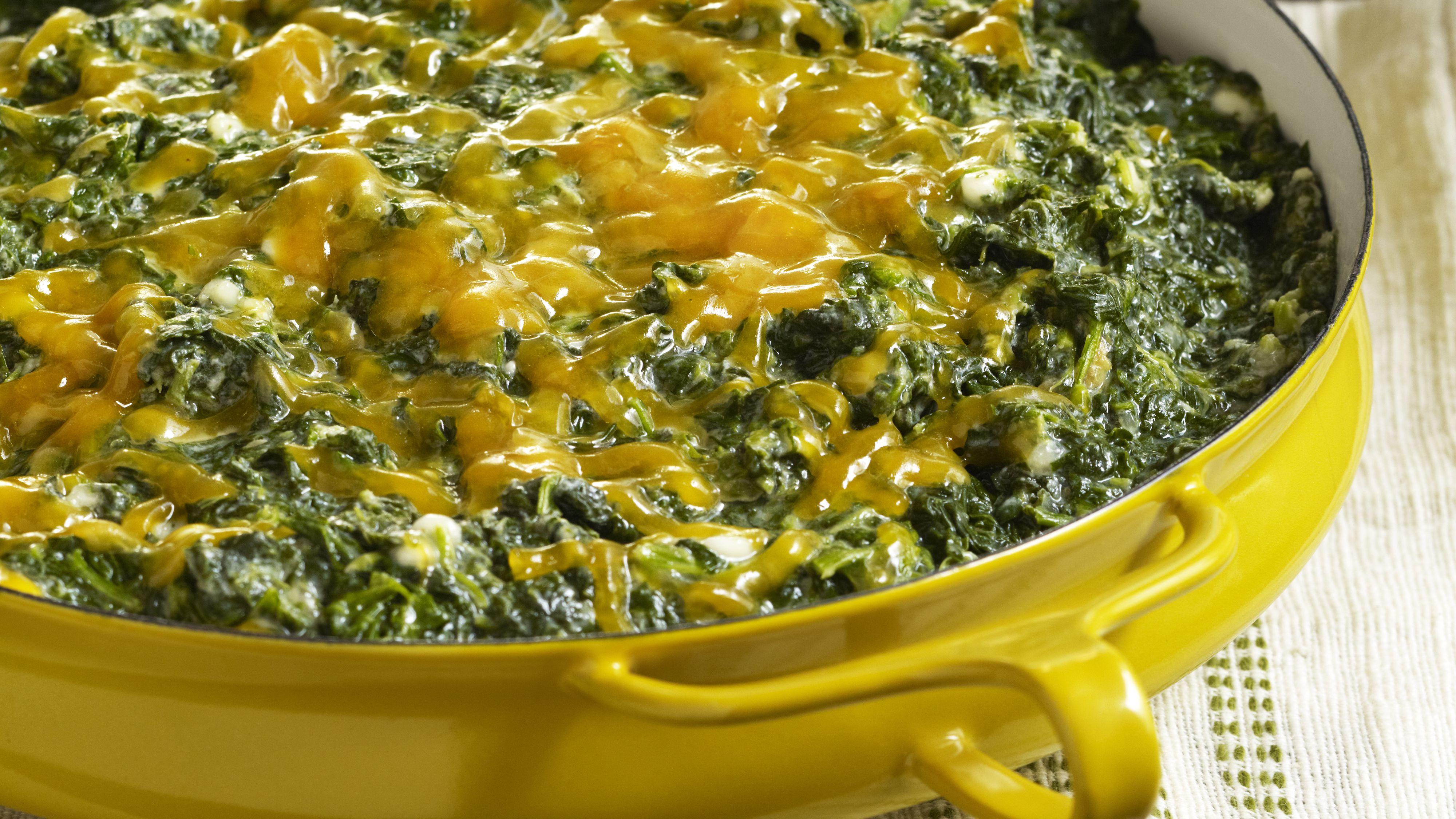 May 09, 2023
tasty spinach recipes
I researched tasty spinach recipes by examining various discussions and articles from sources such as Reddit and The Pioneer Woman. I explored threads on r/recipes, r/cookingforbeginners, r/veganrecipes, and r/Cooking, as well as an article from The Pioneer Woman's website. There was a significant amount of consensus on various spinach recipes and methods of preparation, with some overlap in recommendations. The sources were directly related to the original query, and I am confident in the information I gathered from them.
---
Jump to research
Composed by
A. S.
Have an opinion? Send us proposed edits/additions and we may incorporate them into this article with credit.
---
---
Jump to top
Research

"https://www.thepioneerwoman.com/food-cooking/meals-menus/g43164775/spinach-recipes/"
Spinach is nutritious and an essential vegetable.
Spinach is enriched with vitamins A and C and packed with iron and calcium.
Spinach can be incorporated into many dishes like breakfasts, lunches, dinners, and snacks.
Spinach can be used to make salads, soups, pies, dips and other spinach-based recipes.
Spinach salads can be made with additions like springtime strawberries and lemon poppy seed dressing or crispy bacon and hard-boiled eggs.
Cooked spinach can be served as a healthy side dish for steak, similar to a steakhouse-style dish.
Creamy spinach dips can be made to serve as a party dip with different variations like spinach artichoke dip, spinach artichoke cups, spinach artichoke calzones, and the spinach artichoke tuna noodle casserole.
Spinach pies can be made, especially in Greek cooking, with herbs and feta mixtures and wrapped with crispy phyllo dough.
Spinach quiche is another delectable recipe that can be used for breakfast or brunch.
Chicken gnocchi soup can be prepared to add a pop of color and nutrition to family dinners.
Italian wedding soup, made with fresh veggies like spinach and carrots, and tender meatballs, is a perfect starter dish for a special occasion.
Frozen spinach can be used to prepare cheesy spinach calzones with ingredients like mozzarella and parmesan cheese and onions and garlic.
Reese's spinach salad is a unique spinach salad made with caramelized onions and mushrooms, crispy bacon, and hard-boiled eggs.
The webpage contains recipe links to a total of eight spinach-based recipes:

Spinach-Artichoke Dip.
Spinach Pie.
Strawberry Spinach Salad.
Spinach Quiche.
Chicken Gnocchi Soup.
Spinach-Artichoke Cups.
Italian Wedding Soup.
Reese's Spinach Salad.

"Spinach Artichoke Dip"
Recipe for Spinach Artichoke Dip
Recipe uses frozen spinach (10 oz), cream cheese (8 oz), sour cream (1/3 cup), mayonnaise (1/4 cup), garlic (2 cloves, minced), artichoke hearts (14 oz can, drained, roughly chopped), Parmesan cheese (1/2 cup, shredded), and mozzarella cheese (1 cup, shredded, divided)
Preheat the oven to 375F
Squeeze as much water as possible from the spinach
Beat cream cheese, sour cream, and mayonnaise in a bowl with a hand mixer for 1-2 minutes, until light and fluffy
Add garlic, artichokes, Parmesan cheese, 1/2 cup of the mozzarella, and squeezed spinach to the bowl; mix with a spatula until well combined
Spread the mixture into a 9" oven-safe skillet or a 9×9" baking dish; top with the remaining mozzarella and bake for 20-25 minutes or until bubbly and browned on top
Comments include tips for modifying the recipe:

Bacon can be added
Ranch dressing mix can be added
Lump crab meat can be added
Fresh spinach can be used instead of frozen spinach
Whipped cream cheese can be purchased at the store if a mixer is not available
Mascarpone or fat-free Greek yogurt can be used instead of cream cheese

One comment mentions using 8 different cheeses in a spinach artichoke dip recipe
Another comment mentions serving the dip with homemade bread
Commenters discuss the taste and appearance of the dip

"Simple cooking recipes with spinach with minimum ingredients?"
Users suggest sautéing spinach with onions or garlic to cook.
Garlic is suggested as an alternative to onions.
Steaming spinach for about 1-2 minutes is also suggested.
Raw spinach can be added to lentil or vegetable stews/soups/curries.
Spinach quickly cooks in soups and adds nutrition. Examples include lentil curry/dal or lentil soup.
Mushrooms make a great addition to spinach and onion sauté.
Quick sauté: Sauté onions and mushrooms until soft, then add spinach at the end.
Fresh spinach can be torn or chopped and then added to hot dishes to wilt.
Spinach pairs well with tomato paste and soy sauce with sautéed tempeh dish.
A boiled cup of vegetable broth and a cup of cous cous can be mixed, removed from heat and covered for ten minutes, then chopped spinach tossed with olive oil, raisins, and lemon juice can be stirred in.
A suggested spinach breakfast is scrambled eggs with spinach stirred in before cooking; potatoes and vegan sausage can also be added.
Wilted spinach salad can be made with heated olive oil mixed with garlic and vermouth or vinegar poured over spinach then topped with complementary ingredients like walnuts, onions, or pomegranate seeds.
Spinach can be used in rice dishes, pasta dishes, fried potatoes, and soups.
Spinach salad with asian pear and avocado or topped with spicy sesame dressing.
A vegan spinach pasta recipe with coconut milk and tomato base.
Spinach and feta stuffed mushrooms.
Tricolor spinach and cheese stuffed chicken breast.
Spinach and artichoke dip.
Spinach quiche with goat cheese and sweet potato crust.
Pulled pork sliders with apple bacon slaw and spinach for toppings.
Spinach and goat cheese lasagna rolls.
Spinach and feta stuffed bell pepper with cauliflower rice.
Spicy cod with spinach cous cous.
Zucchini lasagna with spinach and cheese.
Quinoa bowl with lemon tahini sauce, topped with spinach, avocado, brussel sprouts, and chickpeas.
Spinach stuffed turkey burger.
Vegan gluten-free spinach brownies with almond flour.
Spinach and mushroom frittata.

"Easy recipes with spinach?"
Reddit post asking for easy spinach recipes
Timestamped 2 years ago on r/cookingforbeginners
User wanted to add more spinach to their diet and asked for simple recipes
User stated that salads with spinach were getting boring
User wanted ideas for 1-2 serving recipes apart from salads and omelets
Users offered various recipe ideas:

Adding spinach to spaghetti sauce
Sautéing spinach with garlic
Making quesadillas with garlic spinach
Steaming spinach with melted butter and salt
Making saag paneer
Making pesto pasta, garlic sesame stir fry, pici pasta, purple smoothie, palak paneer, and tofu scramble
Stuffed chicken breasts with spinach, feta, and cream cheese mixture, wrapped in bacon and baked
Adding spinach to pasta or ramen dishes, or to stir-fry/rice bowl type meals
Making spinach salad with chicken, cheese, cucumber, sun roasted tomato dressing, and sunflower seeds
Making Korean-style spinach by blanching spinach for 1 minute, then mixing with salt, garlic, and sesame oil
Adding spinach to pasta dishes with meat sauce, lasagna, or stuffed shells
Adding spinach to grilled cheese sandwiches with sliced tomato
Making spinach and ricotta lasagne
Making spinach gomae with sugar, soy sauce, sake (optional), and mirin (rice vinegar)
Microwaving spinach and eating it
Making cream and cheese spinach pasta sauce with garlic, herbs, and either chicken or salmon
Adding spinach to lentil soups
Adding spinach to morning hash browns with mushrooms and parmesan cheese
Making spinach balls by using spinach instead of meat in a meatball recipe
Making caprese salad with heirloom tomatoes, fresh mozzarella balls, and balsamic glaze
Making mini bean and cheese tacos with chopped spinach
Cooking spinach with garlic, onions, bell peppers, and cannellini beans
Including spinach in smoothies, stir fry dishes, and soups
Making a spinach side dish with grated Parmesan, curry powder, garlic powder, and salt.

"What's your favorite way to prepare spinach?"
The Reddit Cooking thread was posted 8 years ago
OP had some tasty spinach at a restaurant and wants to find better ways to prepare it
Users shared various recipes to prepare spinach, including sautéing, using in omelets, salads, soups, stuffing pastries, and making creamed spinach or chicken florentine
User suggested using bacon grease to sauté onions, garlic, and spinach and topping with cheese
User suggested sautéing fresh baby spinach with garlic as a simple but tasty approach
Spinach can be paired with pasta, rice, potatoes, or scrambled eggs
User suggested adding cream cheese and Parmesan to spinach dishes
User suggested seasoning spinach dishes with freshly grated nutmeg instead of salt
One user prefers raw spinach in salads and dislikes mushy cooked spinach
User shared a photo of scrambled eggs with spinach added
Users discussed the benefits of cooking spinach, such as retaining its nutrients and reducing the size of the leaves
User suggested adding sultanas and roasted pine nuts to spinach to make it more flavorful
One user gave a list of all the things they use spinach for, including hotpot and congee
Several users expressed enthusiasm for spinach and shared personal anecdotes about preparing it
Some users agreed with others' suggestions for preparing spinach
Some users expressed concern about adding too much salt to spinach dishes
One user clarified that baby spinach cooks faster than mature spinach
Additional notes:
Many comments were about people's own personal experiences with preparing spinach and provided anecdotes or advice
Most suggestions were for sautéing spinach with some sort of flavoring or seasoning
Some users preferred spinach raw, either in salads or other dishes, while others enjoyed it cooked
Some users added other ingredients to their spinach dishes to make them more flavorful or varied
Only a few comments provided specific measurements or instructions for cooking with spinach
💭 Looking into
A guide to selecting, storing, and preparing fresh spinach
💭 Looking into
3 easy-to-make spinach recipes that are also nutritious