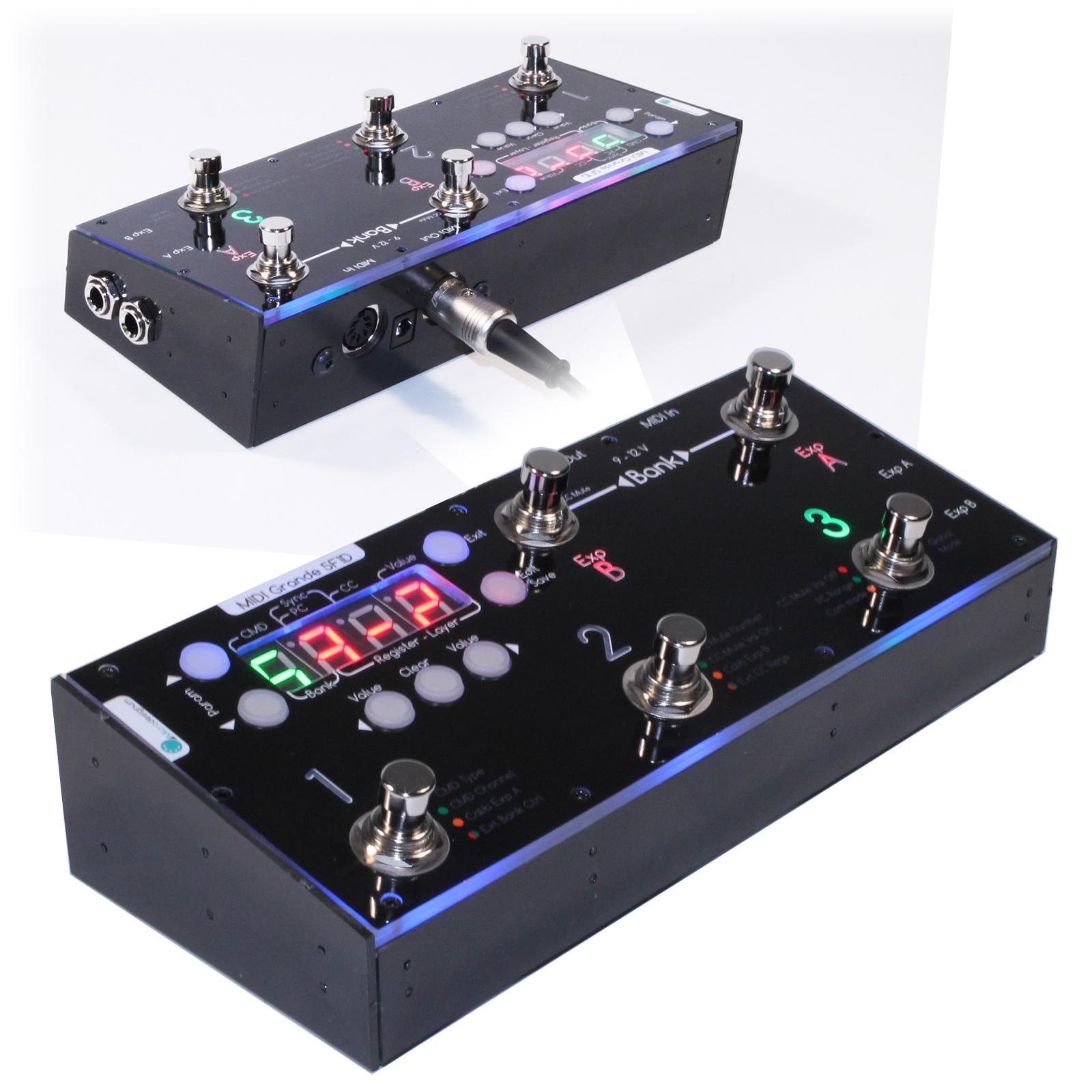 May 03, 2023
Best foot midi controller for guitarist
I researched various sources, including guitar gear websites, review sites, and Reddit discussions, to gather information on the best MIDI foot controllers for guitarists. The sources were relevant to the original query, and there was a general consensus on some of the top recommendations. However, different users may have specific needs and preferences, so it's essential to consider the features and functionalities of each MIDI foot controller mentioned. The most frequently recommended options were the Behringer FCB1010, MeloAudio MIDI Commander, and Nektar Pacer, among others.
---
Jump to research
Composed by
D. G.
Have an opinion? Send us proposed edits/additions and we may incorporate them into this article with credit.
---
---
Jump to top
Research

"https://keyboardkraze.com/best-midi-foot-controller/"
The author recommends using a MIDI foot controller to launch scenes and clips in live performance. It allows for a wider range of live capabilities, even when not playing live instruments.
The author recommends the Behringer FCB1010 as the best MIDI foot controller available for live performance/touring bands. They use it every night on tour and have yet to experience a problem with it.
The Behringer FCB1010 features 10 programmable pads, all illuminated, that make it easy to see which pedal you're hitting even in the dark.
The controller can also be used to control an amp by using its pedals as wah, volume, chorus, or tremolo effects.
Programming the controller is easy, using a formula that gets easier to follow as one gets used to it.
The Nord Pedal Keys 27 MIDI Pedal Board is an organ pedal style foot controller designed to work with Nord keyboards.
It is built to resemble the Hammond B-3 pedals, and is said to feel similar when played.
It allows for covering bass with the feet, but may take some time to get used to, particularly for those new to organ playing.
It is built to be portable but is quite expensive.
The Voodoo Lab Ground Control foot controller is highly powerful and capable of auto-switching presets and quickly changing effects during live performance.
It is larger than other models but has a wider range of features, according to the author.
Nektar Pacer is suitable for launching scenes and clips and has a lightweight design optimized for touring bands.
It has a small learning curve that gets easier as one gets used to it, with a durable design and back-lit LED screens above the pads to make it easy to see.
It was designed to streamline foot controller abilities to making performing easier.
The IK Multimedia iRig Blueboard is a budget-friendly, Bluetooth option that comes with 4 back-lit buttons that can be easily assigned.
Portability is its main advantage, allowing for wireless Bluetooth connection to cell phones or tablets.
However, it is essential to avoid letting the computer go to sleep mode, which may result in losing connection with the device.
The Logidy UMI3 is designed to work with laptops and PCs and draws power from USB.
It requires a device to begin programming, so programming without a laptop or PC is not possible.
The author stresses the importance of choosing according to the musician's needs and preferences, with the understanding that all the

"Need help finding the right MIDI foot controller"
Reddit post on r/guitarpedals titled "Need help finding the right MIDI foot controller"
Post was created three years prior and has four upvotes
User is a guitar pedal noob who recently picked up pedals they thought were essential and now realizes they want more functionality
User bought a Warped Vinyl Hifi and Dark World and wants to access as many sounds on the fly as possible with a limited amount of pedals with MIDI functionality
User is considering the Faves pedal and the DMC-4 as possible options for a MIDI controller
User has concerns about the tap and hold functions on Chase Bliss pedals through these controllers, if they can bypass the controller and stomp the actual pedals to use their "live mode," if individual assigned tap/freeze/hold functions still work when using a preset of a grouping, and if they can layer presets on the fly
First comment suggests using an old Rocktron MidiMate for MIDI patch switching and advises that some gear can be overridden by using controls on the actual unit; also recommends keeping rigs simple to achieve artistic goals
Second comment responds to first comment and indicates that they want to use the pedals' tap functions and are considering simpler MIDI controllers like the qConnect or Faves, but are unsure if they will lose control of tap tempo/momentary bypass/freeze functions; they checked out the micro.clock but found it only handles tap tempo functions
Third comment explains that Chase Bliss pedals ship with a MIDI leaflet that contains the CC messages programmed and what parameter they apply to, and that tap/hold functions will correspond to one of these parameters; user explains a lateral thinking workaround for the Tonal Recall
Third comment also explains that live mode can be accessed by physically switching the central switch or by sending the preset message for live mode (pc0)
Third comment confirms that assigned functions work as normal for individual pedals within a preset of a grouping
Third comment responds to the user's concern about layering presets on the fly by explaining that each pedal preset can be independently stored and that this can be easily accomplished with most MIDI controllers
Third comment suggests using MIDI over TRS and recommends disaster area QConnect as a good option for a compact controller that works well with bigger loop switchers
Fourth comment confirms that tap functions can still be done on pedals and suggests that the qConnect doesn't have the capability to handle all secondary functions and may require an external multiswitch MIDI controller to expand functionality
Fifth comment recommends the Morningstar mc6 mk

"Midi foot controller for Amplitube 5"
Reddit post titled "Midi foot controller for Amplitube 5" with 2 years ago posted in r/AmpliTube
The post is asking for MIDI controller options that work with Amplitube 5
The poster is looking for something smaller than the I/O stomp, with 4-5 banks and an expression pedal, integrated or connectable
User recommendations include Line 6 FBV Express, FCB1010, Roland FC-300, Boss ES8, and MIDI Commander
One user states that the Line 6 FBV Express plugs in via USB and works well for them
Another user states that any MIDI controller should work and suggests checking with a music equipment retailer to confirm compatibility
One commenter shares a link to a forum post discussing configuration issues with non-IK products and Amplitube 4
Another commenter notes that the link referenced above is for one person's configuration issues with the FCB1010 and Amplitube 4, stating that the FCB1010 is known to work
The FCB1010, Roland FC-300, Boss ES8, and MIDI Commander are all recommended by users as potential MIDI controller options
Amplitube can be configured through Reason, according to one user
The IK Multimedia website offers a list of compatible MIDI controllers for Amplitube which includes products from IK Multimedia, Behringer, Livid Instruments, Line 6, Roland, and more
Another forum post linked in the comments discusses using a foot controller with Amplitube and offers a recommendation for a Behringer FCB1010
Some commenters discuss using MIDI learn features within Amplitube to configure their controllers
An example of MIDI control options within Amplitube is given, including using a foot controller to switch between presets or stompboxes, adjusting wah or volume pedals and adding effects
One commenter suggests using the Lemur app on an iPad for MIDI control of Amplitube
The ability to save and load custom MIDI configurations within Amplitube is noted by one commenter.

"Rc-505 and midi foot controllers"
Not used in article

"RC 505 and Foot controllers"
Not used in article

"<b>Ultimate Guide to DAW Controllers</b> (<b>Best</b> <b>MIDI</b> ... - <b>Guitar</b> Gear Finder"
Not used in article

"Choosing the Best MIDI Guitar Controller 2023: 6 Top Options - MIDINation"
Not used in article

"https://heavy.com/tech/best-midi-foot-controllers/"
The Behringer FCB1010 is a large and durable controller with 2 expression pedals and 10 MIDI switches.
It is best for guitar players who use amp modeling software like Guitar Rig.
It lacks built-in Midi to USB support but can connect to a computer using a MIDI converter.
The MeloAudio MIDI Commander Foot Controller is versatile and portable, with 10 MIDI switches plus 2 expression pedal ports, a backlit display, and 3-way power supply.
It can be used to switch to one of eight host presets, and it can also set up two custom modes for PC or CC commands.
The host presets support JamUp, Bias Fx, AXE FX, KPA, ATOM, and PC-8x.
It has solid analog controls to select MIDI bank, transpose notes, change MIDI channels and change MIDI program.
The device has a backlit OLED screen which is small but easy to read from any angle.
It has three different power supply options which include powering with two AAA batteries, a USB pass-through cable, or an OTG USB cable.
The Studiologic MP-117 Dynamic MIDI Pedal Board is a MIDI controller with 17 velocity-sensitive pedals that can be programmed to allow users to play melodies with their feet.
It has solid analog controls for selecting MIDI bank, transposition, and MIDI program, although it does not include Midi to USB support out of the box.
It is hefty and durable but also quite large and heavy.
The Voodoo Lab Ground Control Pro MIDI Foot Controller offers sturdy and durable build quality at a middle-of-the-road price and has 8+ programmable MIDI switches.
It has a large backlit alphanumeric display and can easily be paired with other hardware as it has two pedal inputs and MIDI I/O ports.
It does not have MIDI to USB connection by default but can be remedied with a separate MIDI adapter.
The MIDI Mouse is a compact and simple MIDI foot controller with 3 switches and a backlit LED display.
It measures out at a modest 4.8 x 3.8 x 2 inches and is quite sturdy and lightweight.
Two switches are dedicated to cycling through sixteen different MIDI channels, and the third button allows toggling between browsing and selecting MIDI channels.
The SoftStep 2 USB MIDI Foot Controller has 10 pressure-sensitive pads, a backlit display, and is USB-powered.
It has a small footprint, is highly customizable, and can

"8 Best MIDI Guitar Controllers & Pickups (That Aren't Trash)"
Not used in article

"https://guitargearfinder.com/guides/best-midi-foot-controllers/"
Introduction:

A MIDI foot controller can give control over a guitar rig and access complex settings that would otherwise be impossible.
The article discusses different types of MIDI foot controllers, what features to look for, and ways to use them.
It also mentions converting a guitar into a MIDI signal to access a range of tones and effects.

MIDI Foot Controller Features to Look For:

Expression Pedals:

Some controllers have built-in expression pedals, while others allow connection of an external expression pedal.
They provide flexibility in controlling tone and effects, such as accessing wah sounds, controlling volume levels or whammy effects, making adjustments to effects parameters on the fly, etc.
Having the option to connect an expression pedal is better than needing to buy a completely new controller.

Power Supply:

Some foot controllers don't require power, others require a power supply, and some are battery-powered.

Connections:

There are three ways a MIDI controller can connect to other devices: Standard MIDI, USB, and Bluetooth.

Displays:

Some MIDI controllers are simple and don't require any display, while a decent screen makes it easier to program the foot controller.

Different Ways to Use a MIDI Foot Controller for Guitar:

Sync Up Multiple MIDI-Compatible Guitar Pedals:

A MIDI foot controller allows synchronizing MIDI-compatible guitar pedals in any way one wishes.
Allows easy switching between different presets on a pedal and controlling all pedals simultaneously.

Control a PC-Based Guitar Rig:

Running a complete guitar rig for live or home without using an amp and replacing it with a computer.
Adding a MIDI foot controller gives a serious amount of control that isn't possible with a standard guitar rig.
A controller can change amp tones or presets, toggle individual effects on and off, use an expression pedal for wah, volume or whammy effects, etc.

Control a DAW With Your Feet:

A MIDI foot controller can control any aspect of your tone and effects with your feet, adding so much to a guitar & PC rig.
Footswitches on the controller can control anything in the DAW, such as start recording, stop playback, undo, re-record, etc.
Can be used to trigger samples, change between guitar effects or presets, or control other plugins to enhance your live sound.

Best Cheap MIDI Foot Controller for Guitar: Behringer FCB1010

"https://www.guitarchalk.com/best-midi-foot-controller/"
The Voodoo Lab Ground Control is the best MIDI foot controller from a functionality perspective.
It is expensive, but highly recommended for those who need a MIDI controller for more complex rigs.
The Behringer FCB1010 is the most budget-friendly MIDI foot controller option.
It is a capable option for those who want to control just one or a few devices and is much easier to use than the Voodoo Lab Ground Control.
The Rocktron MIDI Xchange is a very basic and easy-to-use option, with only two buttons for cycling through MIDI presets.
Great for small rigs and single devices, and the most affordable option of the four.
The Rocktron MIDI Raider Pro is one of the most expensive MIDI foot controllers and is the largest, with room for 18 total buttons on the front panel.
It allows you to work in three different modes: Bank, Song, and Remote.
The Bank mode has 120 total presets which can be set-up as 24 banks of five presets with 10 'instant' switches, or all 15 access switches can be used as 'instant' switches.
The MIDI controllers will control MIDI-compatible guitar pedals, most rack-effects processors, and DAWs, recording, or effects software.
The Voodoo Lab Ground Control can switch between amps and channels, while the Behringer FCB1010 has built-in expression pedals.
The Rocktron MIDI Xchange has over 100 banks for storing sounds and the Rocktron MIDI Raider Pro has 15 different possible sounds.
The Voodoo Lab Ground Control can control entire rigs and multiple units, while the Rocktron MIDI Raider Pro is designed to handle multiple MIDI-controllable devices.
The Rocktron MIDI Xchange's two-button system requires linear preset selecting.
None of the options come with a power adapter, but the Rocktron-branded power adapter may be available for some.
All the MIDI foot controllers on the webpage have their own drawbacks.
The price of the controllers will depend on their complexity and functionality.
The text includes helpful diagrams for setting up the MIDI foot controllers with an existing guitar rig.

"https://producerhive.com/buyer-guides/midi-controllers/best-midi-foot-controllers/"
Introduction on MIDI foot controllers and their usefulness as an extra "arm" or tool for guitarists, producers, and synth enthusiasts.
A disclosure that the website may receive commissions when readers click their links and make purchases.
Lists the 5 most feature-packed MIDI foot controllers for guitarists of all budgets: Behringer FCB1010, Nektar Pacer, Keith McMillen SoftStep 2, Tech 21 MIDI Mouse Pedal, Studiologic MP117 MIDI Controller Pedal Board.
For those on a tight budget, the Nektar Pacer provides great value while the Studiologic MP117 is a premium pick for those with cash to spend.
Each MIDI foot controller is thoroughly reviewed and includes its key features, price, pros and cons.
The Behringer FCB1010 is chosen as the "best overall" due to its versatility, features, and budget-friendly price tag. It has 2 freely assignable expression pedals, 10 foot switches, 10 banks of presets with 10 user-editable preferences (100 presets), up to 5 program change commands per preset, MIDI merge function, and 2 programmable relay-controlled switch jacks. It is very affordable and has sturdy construction.
The Nektar Pacer is a great choice for both performers and producers. It comes with preset integration settings for many popular DAWs, amp/effects models, and synths/samplers already loaded. It has 11-foot switches, a rotary encoder, programmable, support for 4 external expression pedals, 24 user presets, and 6 messages per footswitch. It is affordable and has a solid steel housing.
The Keith McMillen SoftStep 2 is highly customizable, easy to program and compact at less than an inch thick. The 10 pressure-sensitive keys are registered not only for the key is pressed, but also registers pressure, foot position, X/Y directionality, and rotational direction. This makes it a dynamic performance tool with essentially 10 built-in expression pedals. It has pre-programmed setups for popular DAWs such as Garage Band, Logic, Traktor, Abelton, and more. It is well suited for musicians on the go at 1.3 lbs. It is a bit pricey but one of the best MIDI foot controllers on the market due to its unique features, flexibility, and portability.
The Tech 21 MIDI Mouse Pedal is a bare-bones minimalist MIDI controller for those that only require simple
💭 Looking into
Advantages of using a foot MIDI controller for guitar
💭 Looking into
Top 3 foot MIDI controllers for guitar players