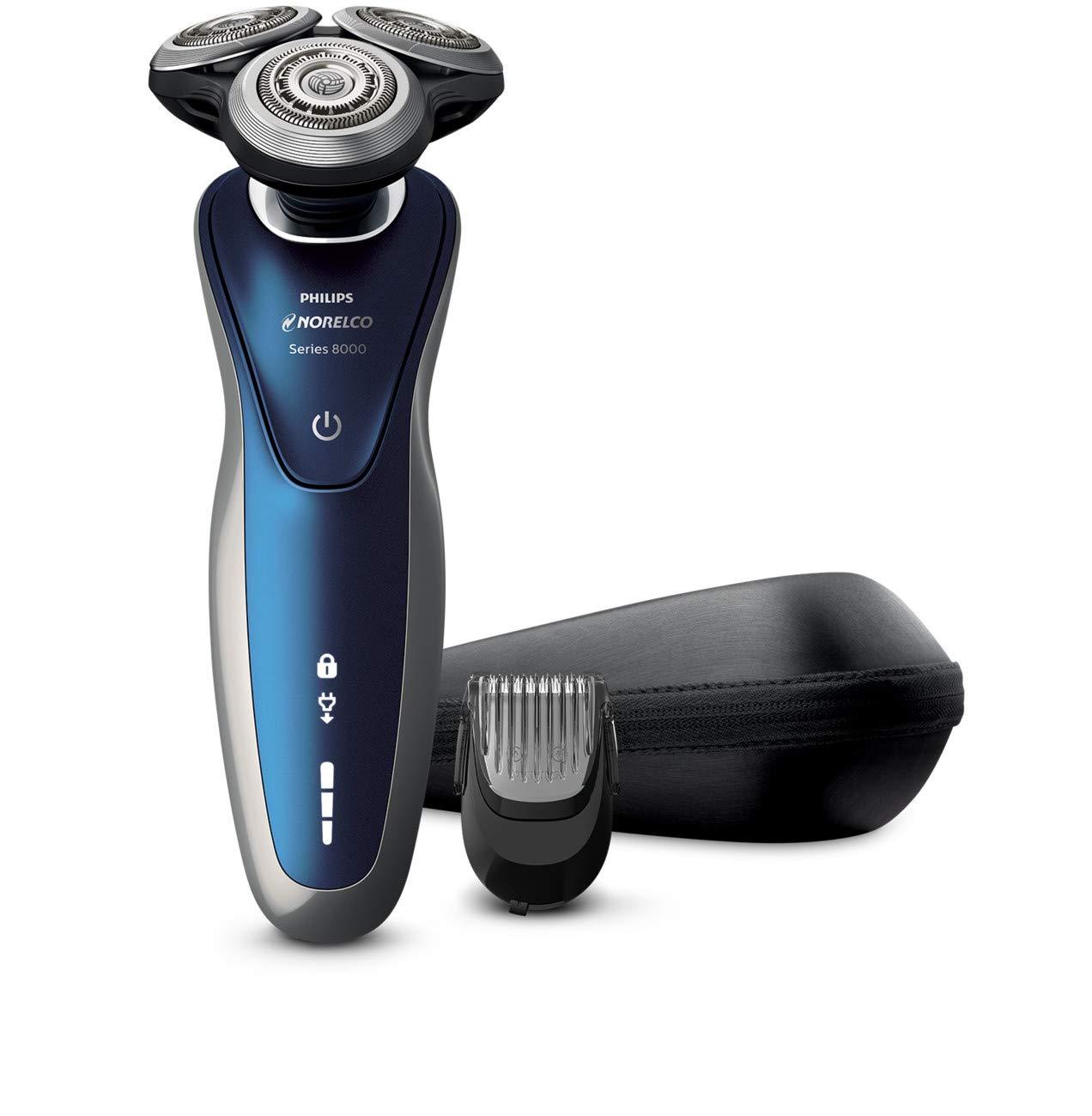 May 02, 2023
Electric shaver
I conducted research on electric shavers by examining several sources, including articles from Men's Health, Forbes, Reddit, ShaverCheck, and The Shaver Guide. These sources provided a variety of opinions and recommendations on the best electric shavers available in the market. There was a general consensus on some top-performing shavers, such as the Braun Series 9 Pro and Philips Norelco models. However, personal preferences and specific shaving needs can influence which shaver is best suited for an individual. Overall, I am confident that the information gathered provides a comprehensive guide to selecting the right electric shaver.
---
Jump to research
Composed by
A. S.
Have an opinion? Send us proposed edits/additions and we may incorporate them into this article with credit.
---
---
Jump to top
Research

"https://www.menshealth.com/grooming/g21347829/best-electric-razor-men/"
Braun Series 9 Pro 9465cc

AutoSense technology
Titanium-coated blades
100% waterproof
10-D flex head
Comes with self-cleaning charging stand
Auto adjusts power based on density of beard
Sonic technology lifts hair to deliver a closer shave
11% off
Battery life: 50 minutes
Weight: 2.11 pounds

Panasonic Arc5 Electric Razor

5-blades for ultra-close shave
Pivoting head
Easy-to-read LED display
14,000 cuts per minute
Lightweight
Optional cleaning station can have some issues
Battery life not as good as some others
Great for sensitive skin
Blade works as close as razor/cream combo
Good for hard-to-reach areas
Comes with a variety of bells and whistles
Battery life: 45 minutes
Weight: 0.43 pounds

Philips Norelco 9800 Wet & Dry Shaver

Blades handle up to 5 days of no shaving
Precision guard sensor
5-minute quick charge that will cover one shave
Good for neck hair
Rotary heads make it easy to move with skin
Pressure sensors alert when pressing too hard or not enough
Dual Steel Precision blades cut at 150,000 cuts per minute
AI-powered and comes with an app to track shaves and offer tips
Battery life: 60 minutes
Weight: 2.5 pounds

Philips Norelco OneBlade Hybrid

Excellent price point
Long-lasting replaceable blades
Works well for trimming sideburns
Doesn't shave as close as high-end shavers
Great for maintaining stubble
Easy to use
Comes with 3 combs and a contoured head
Battery life: 45 minutes
Weight: 0.71 pounds

Philips Norelco Travel Men's Shaver with Close-Cut Technology

Under $40
Incredibly compact
Highly durable
Comes with AA batteries
Power comparable to larger razors
Good for quick touch-ups on the

"https://shavercheck.com/best-rotary-shaver/"
Switching to electric shavers can be beneficial for most men, especially in terms of convenience, comfort, and even costs.
There are two types of electric shavers: rotary and foil shavers.
Rotary shavers would be a better fit for those who deal with long, flat-lying hairs that grow in different directions and don't shave daily.
With a rotary shaver, you can get away with a sloppier technique, and it also works great as a head shaver.
Rotary shavers are generally quieter during operation and last longer before needing to be replaced.
Philips Norelco is the dominant brand in the market for rotary shavers due to continuous improvement to their design.
The Philips Norelco S9000 Prestige SP9820 is the latest and best electric rotary shaver one can buy with the smoothest and most forgiving rotary shaver that deals impressively with long, flat-lying hair.
The Philips Norelco 9500 (S9985/84) is a good option due to a lower price with almost similar performance as the S9000.
The Philips Norelco Series 9000 S931/83 offers a very effective shaving solution.
Quick Clean Pod is a basic cleaning station that you can buy with the Philips Norelco 9500.
The article recommends considering the following aspects for choosing a rotary shaver:

cost/performance ratio,
availability and cost of replacement blades,
ease of cleaning and maintenance
suitability for your particular needs.

The webpage provides the pros and cons of each shaver listed and mentions when it would be a suitable choice.
The article explains rotary shavers' working, and how they perform better than foil shavers in specific situations.
The author of this article has bought and tested every shaver reviewed and is not endorsed/sponsored by Philips Norelco.
Philips Norelco has been refining and improving the design of their rotary shavers since 1939, and they have become the undisputed market leader in this segment.
Philips doesn't even recommend oiling the blades of their rotary razors.
The blades in rotary razors rotate at a much slower speed compared to the vast majority of foil shavers, so there is less friction and wear.
Some advanced foil shavers like the Braun Series 9 work remarkably well when shaving longer beards.
Foil razors require shaving **against

"https://theshaverguide.com/foil-vs-rotary-shaver/"
Foil shavers and rotary shavers are the most common types of electric shavers.
A foil shaver typically comprises a head with a metal-foil screen that covers the blades, oscillating the blades in left and right directions. Most foil shavers are used for trimming facial hair, but they can also be used to get rid of unwanted hair in regions like armpits and the pubic area.
There are frameless razors with open and closed-frame designs. An open-frame design makes it easy to clean out hair clogs or dirt that gets stuck inside the shaver.
A rotary shaver is a type of electric shaver that uses circular blades to cut hair with a round head fitted with a lift and cut system. Rotary shavers work best on short hair, covering larger areas and people with thick and coarse hair.
Rotary shavers have a wide range of movement and are less noisy than foil shavers
The article discusses how both foil and rotary shavers work and their differences. Foil shavers have a series of blades that cut the hair off from the top and bottom of the shaving head, while the rotary shaver moves the cutting blades in a circular way.
The article talks about which shaver is better for certain needs, including people with sensitive skin. Foil shavers might be more suitable for sensitive skin since the blades move in an oscillating motion, cutting hair from all angles with less pressure applied to individual hairs. Rotary shavers can be more irritating for sensitive skin because they use circular blades and don't move in an oscillating motion.
Both shavers have different working principles. A foil shaver has a series of blades at the top and bottom part of the shaving head. When shaving with a foil shaver, the user glides the device over the skin in the direction of hair growth to produce a close shave. In comparison, a rotary shaver has three or four blades that move independently and rotate past closely set rows of teeth on an opposing side of the blade.
Braun is the most popular shaver brand for foil shavers, with prices ranging from $56 to $350. Panasonic is another brand, with the Arc5 Electric Razor costing $200 as the most expensive shaver. Philips Norelco is the pioneer of rotary shavers, with shaver prices ranging from $30 to $350. Other popular brands are Remington, Andis, and BaBylisPRO for their foil shavers.
Features to consider when buying an electric

"https://www.forbes.com/sites/forbes-personal-shopper/article/best-electric-razors-for-men/"
The article discusses the author's personal dislike for using manual razors to shave his face and goes on to describe his preference for electric shavers.
The author tested eight electric shavers for a period of six weeks and selected four as the best performers across a range of categories.
The author declares the Braun Series 9 Pro 9419S Electric Razor as the best overall winner, citing its "indisputably closest shave" in comparison to the other options.
The article lists the key features and performance results of the Braun Series 9 Pro 9419S Electric Razor. It has two foil shavers and two crossbar/lifting shavers, a protective SkinGuard bar, auto adjustments for thicker beards, a flexible head and razors, a head-locking switch to limit movement, a pop-up trimmer, and an LED battery display. It has a tested charge time of 1 hour, a tested runtime of 4 hours 55 minutes, and a tested 5-minute quick-charge runtime of 6 minutes. It is 100% waterproof and comes with optional add-ons such as a charging and cleaning station and a leather travel charging case. The warranty lasts for 2 years.
The article lists the key features and performance results of the BaBylissPro Barberology GoldFX Double Foil Electric Razor. It has two foil shavers, an auto-locking lid, and a charge indicator light. It has a tested charge time of 2 hours 20 minutes, a tested runtime of 3 hours 10 minutes, and a tested 5-minute quick-charge runtime of 5 minutes. It is rinseable and can be used for wet shaving. There are no optional add-ons. The warranty lasts for 2 years. The razor is ideal for producing a "straightforward, efficient and ultra-close shave." It provides optimum value for those "who need a reliable device but doesn't need the bells and whistles."
The article lists the key features and performance results of the Philips Norelco 9800 Electric Razor. It has three rotary panels, a flexible head and panels, a device locking function, a pop-up trimmer, and an OLED battery display. It has a tested charge time of 1 hour, a tested runtime of 2 hours 55 minutes, and a tested 5-minute quick-charge runtime of 3.5 minutes. It is rinseable and can be used for wet shaving. Optional add-ons include a cleaning and charging station.

"Best Electric Shavers for Men 2022"
The webpage lists the top 10 electric shavers for men in 2022 according to users in the subreddit r/Lifestylereviews.

The shavers are briefly described with their key features and model numbers.

The top-rated shaver is the Philips Norelco One Blade Hybrid Electric Trimmer and Shaver, QP2630/70.

The Philips Norelco S1560/81 Shaver 2100 is another popular option. It is a rechargeable wet electric shaver equipped with a pop-up trimmer.

Braun Series 3 32B Foil & Cutter Replacement Head, Compatible with Models 3000s, 3010s, 3040s, 3050cc, 3070cc, 3080s, 3090cc is a foil and cutter replacement head that is compatible with multiple Braun models.

Braun Pulsonic Series 7 70S is another popular option equipped with a foil and cutter replacement head compatible with Models 790cc, 7865cc, 7899cc, 7898cc, 7893s, 760cc, 797cc, 789cc.

Andis 17150 Pro is a foil lithium titanium foil shaver that can be used with or without a cord.

The Panasonic Cordless Men's Beard Trimmer is another highly recommended shaver. It is equipped with a trimmer with precision dial, adjustable 19 length setting, and it is washable – ER-GB42-K (Black).

Panasonic ES-LT41-K Arc3 Wet Dry Electric Razor is an arc3 wet dry electric razor with flexible pivoting head equipped with a men's 3-blade cordless. It is suited for wet and dry operations.

Panasonic ES-LA93-K, Arc4 Electric Razor is an arc4 electric razor equipped with men's 4-blade and dual motor, delivering a premium automatic clean & charge station included, and is operational wet or dry.

Panasonic Arc5 Electric Razor is equipped with men's 5-blade cordless with shave sensor technology & wet/dry convenience — ES-LV65-S.

Wahl Model 7061-100 is a foil shaver that is waterproof and rechargeable. It is equipped with a precision trimmer and provides long run time and quick charge.

Users mention the battery life of electric shavers to be an essential factor in their selection.
-

"Complete Guide on Electric Shavers"
Here are my highly specific bullet point notes on the complete guide of the Electric Shavers article on Reddit:
The guide begins with an introduction that briefly explains why electric shavers are preferred by many people and its benefits, which include convenience, speed, comfort, and safety.
The two main types of electric shavers are foil shavers and rotary razors.
Rotary razors have a central headpiece with three small circular heads with circular metal pieces with small blades running in circles beneath them.
Foil shavers have a central headpiece that consists of a thin piece of aluminum with small holes and blades that slide on the foil, moving left and right.
To use rotary razors, users should use small circular motions against the grain with light pressure at first, then use more pressure for stubborn hairs on a second pass.
To use foil shavers, users should use small up and down motions against the grain of the hair with light pressure at first, then use more pressure for stubborn hairs on a second pass.
Rotary razors are best for men with weird grain patterns and thick hair, while foil shavers are better for straightforward grain patterns, shaving every day, and getting a really close shave with little irritation.
The guide recommends shaving before cleansing the face and using cold water instead of hot water before shaving, as it stiffens the hair and makes it easier to cut.
The guide also recommends minimizing irritation by using minimal passes while shaving and splashing the face with cold water after shaving.
It is not necessary to put on an aftershave product after shaving, but if you feel tugging or stinging, the guide recommends using an aftershave lotion or balm.
Clean the shaver after every use or every second use to keep it clean and functioning correctly.
Rotary shavers are a bit easier to clean, while foil shavers sometimes take more time to clean.
Pros of rotary shavers include being the best for men with weird grain patterns and thick hair, good for shaving on the neck, and best for men who don't shave every day.
Cons of rotary shavers include the tendency to cause irritation, not as close of a shave, and a tendency to sometimes pull hairs instead of cutting them.
Pros of foil shavers include little to no irritation at all, really close shave, and no pulling at all.
Cons of foil shavers include neck shaving might take more time than with a rotary, takes sometimes more time to clean, and men with thicker hair may take
💭 Looking into
Top 3 electric shavers with the longest battery life
💭 Looking into
The difference between foil and rotary shavers
💭 Looking into
The 5 best electric shavers for men in 2022