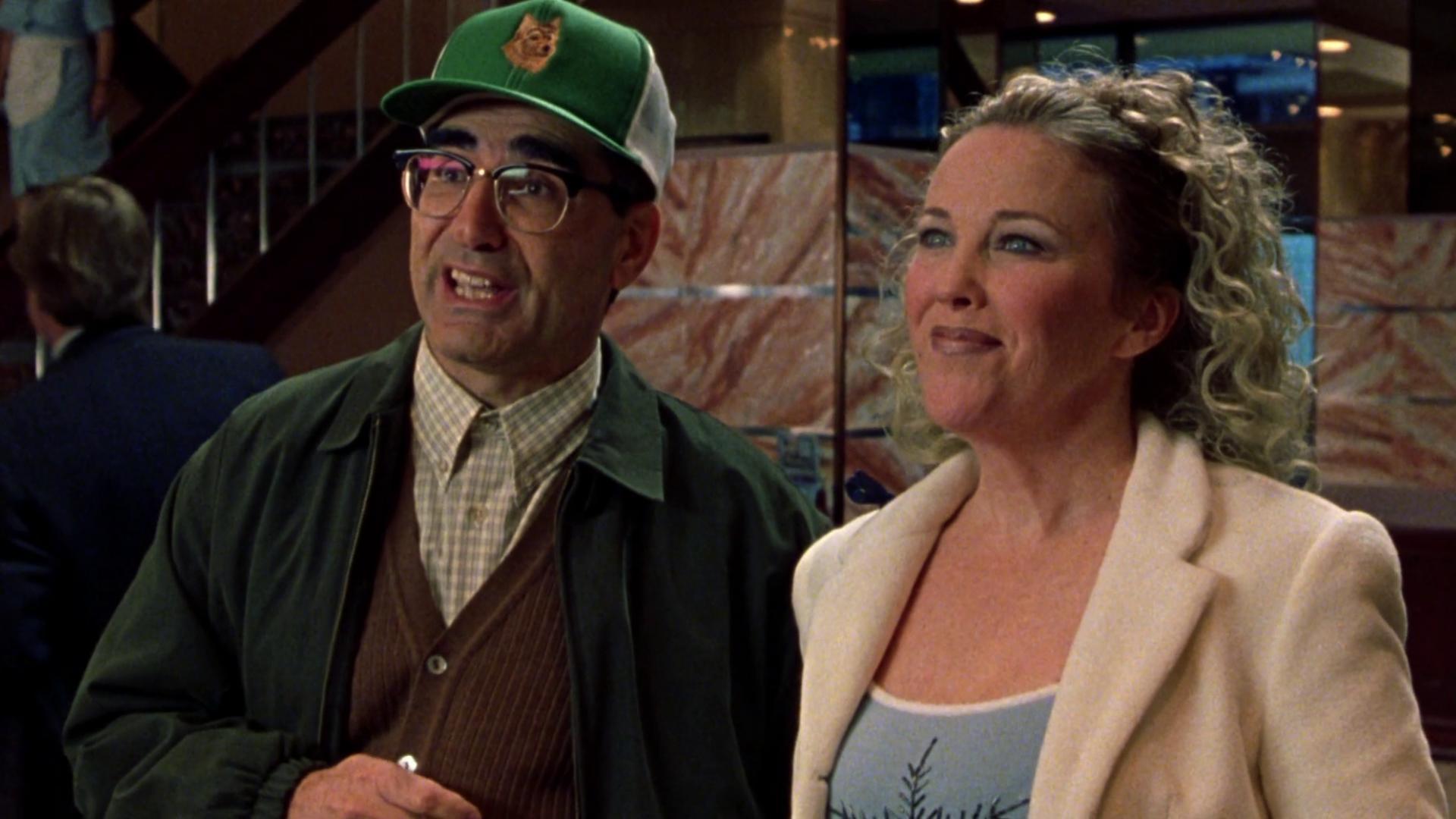 September 11, 2023
what are the funniest movies of all time
I researched various sources, including Reddit discussion threads, Mental Floss, Looper, Time Out, and BBC Culture, to gather information on the funniest movies of all time. The sources provided a diverse range of comedy movie recommendations and opinions, showcasing the subjective nature of humor. Although there was not a complete consensus on the absolute funniest movies, several films were frequently mentioned and praised across multiple sources.
---
Jump to research
Composed by
D. D.
Have an opinion? Send us proposed edits/additions and we may incorporate them into this article with credit.
---
The Naked Gun
The Naked Gun, another film starring
Leslie Nielsen, was recommended as a hilarious comedy in a Reddit thread. Nielsen's deadpan delivery and his ability to maintain a straight face in the midst of absurd situations were praised by commenters.
The movie's humor is enhanced by
the fact that Nielsen was originally a serious dramatic actor, which made his comedic delivery even more impactful.
Step Brothers
Step Brothers was mentioned as a
consistently funny movie in multiple Reddit threads. Users praised the film for its ability to make them laugh without fail, and it was often recommended as a "pure laugh-a-minute" comedy.
What We Do in the Shadows
What We Do in the Shadows,
a mockumentary about vampires living in New Zealand, was recommended in multiple Reddit threads as a funny and unique comedy. The movie's humor and original concept make it a stand-out comedy recommendation.
Top Secret
Top Secret, made by the same
production company as The Naked Gun and Airplane!, was praised for its non-stop jokes and classic sight gags. Fans of The Naked Gun and Airplane! might enjoy this comedy for its similar humor and style.
Monty Python and the Holy Grail
Monty Python and the Holy Grail
is considered a classic comedy and was frequently mentioned in Reddit discussions as a must-watch film. The movie showcases the unique humor of the Monty Python comedy group and has become a benchmark for absurd, satirical humor.
The Hangover
The Hangover was another popular comedy recommendation across multiple sources. The movie's wild and raunchy humor, combined with its memorable characters and situations, has made it a favorite among comedy fans.
---
Jump to top
Research

"https://www.timeout.com/film/100-best-comedy-movies"
The page contains the list of 100 Best Comedy Movies Of All Time as chosen by Time Out writers and top comedians
The list is a mix of silly and sophisticated, light and dark, surreal and broad-type comedies that represent different types and subgenres of comedy
The list is not ranked numerically, but the movies are listed in alphabetical order
Each movie includes details such as directors and cast members
Some of the featured movies also landed on other lists compiled by Time Out such as the Best Romantic Comedies, the Best Thriller Films of All Time, and the Best Foreign Films of All Time
The following are some of the movies on the list along with brief descriptions:

21 Jump Street (2012) - A reboot of the popular TV show that turned out to be surprisingly funny and entertaining
Ace Ventura: Pet Detective (1994) - Jim Carrey's breakthrough movie, a silly and eccentric comedy that established Carrey as a comedic force to be reckoned with
Anchorman: The Legend of Ron Burgundy (2004) - A satire on the culture of 1970s American newsroom, featuring an all-star comedic cast headed by Will Ferrell
The Apartment (1960) - A bittersweet romantic comedy from Billy Wilder that won Oscars for Best Picture, Best Director, and Best Original Screenplay
Austin Powers: International Man of Mystery (1997) - A spoof of James Bond movies that gave birth to a whole new kind of British spy
Bridesmaids (2011) - A female-led comedy that is both raunchy and heartfelt, showcasing the talents of Kristen Wiig, Maya Rudolph, and Melissa McCarthy, among others
The Grand Budapest Hotel (2014) - A Wes Anderson whimsical comedy adventure set in a fictional European country between the two World Wars
The Hangover (2009) - A wild and raunchy bachelor party comedy that launched the careers of Bradley Cooper, Zach Galifianakis, and Ed Helms
Hot Fuzz (2007) - A parody of buddy cop movies, featuring Edgar Wright's signature blend of action, comedy, and satire
The Naked Gun (1988) - A hilarious send-up of cop thrillers, starring Leslie Nielsen as the clueless Lt. Frank Drebin
Meet the Parents (2000) - A Ben Stiller comedy about the perils

"https://www.mentalfloss.com/article/635678/best-comedy-movies-all-time"
Buster Keaton's The General

Keaton's willingness to endanger himself for the sake of entertainment
Elaborate and bold comedy stunts
Perching on the nose of a moving train and throwing a railroad tie.

Marx Brothers' Duck Soup

Four powerhouses operating independently of each other
When joined become an unstoppable comedic force
The purest example of both their separate greatness and their unified talent
Margaret Dumont as the legendary honorary Marx

Frank Capra's It Happened One Night

Chemistry between Clark Gable and Claudette Colbert as two mismatched people
Retains its timeless power even today
The movie is most famous for the moment when Colbert shows her ankles to get a ride
Packed with wit and occasional wisdom
Gable portrayed drunk humorously

Charlie Chaplin's Modern Times

Tramp's saga of poverty, inequality, and comedy
Chaplin's genius of comedic structure on macro and micro level
Viewed both as sad and funny

Howard Hawks' Bringing Up Baby

Grant's performance as an in-over-his-head nerd
Katharine Hepburn doing the Manic Pixie Dream Girl thing
Massive comedic set piece involving a collapsing dinosaur skeleton
Witty banter, music, and deeply embedded jokes

Billy Wilder's The Apartment

Exudes a sense of warmth and honesty
Two lonely people finding their way to each other through twisted circumstances
Beautiful performances
Delivers the laughs

Stanley Kubrick's Dr. Strangelove

Joyful heart beneath nihilism
Visual wonder
Peter Sellers in three of his most memorable roles

Robert Altman's MAS*H

Understated performances from Donald Sutherland and Elliott Gould
Naturalistic and constantly flowing dialogue
Gleefully irreverent masterpiece
Great anti-war movie

Mel Brooks' Blazing Saddles

Classic Western satire
Dirty and transgressive jokes, some of which have not aged well
Still blisteringly funny and relevant
Gutsiest comedy moves of all time

Mel Brooks' Young Frankenstein

Gene Wilder in full mad scientist mode
Madeline Kahn

"https://www.bbc.com/culture/article/20170821-the-100-greatest-comedies-of-all-time"
Relevant: True Importance: 8 Notes:
253 film critics from 52 countries participated in a poll to determine the 100 greatest comedies of all time, and BBC Culture listed them.
Of the 100 films, only three of them were also best picture-winning comedies: It Happened One Night, Annie Hall, and Birdman.
Critics listed films from any country made since cinema was invented that they considered to be comedies without advanced definition.
Comedy films that critics considered part of their personal favorites, were urged to include as well as films that make people smile despite the ideal of greatness.
Some Like it Hot topped the list, followed by Dr. Strangelove or: How I Learned to Stop Worrying and Love the Bomb which was ranked 2nd.
The critics that participated included 135 men and 118 women from six continents.
Some Like It Hot had the most votes from critics in Europe, East Asia, and Latin America.
The article discusses that comedic tastes do not differ much between men and women, but they diverge on some specific points.
Women critics preferred films like Clueless and Mean Girls while male critics preferred Animal House and Step Brothers.
There is evidence that comedy is not universal, and certain regions of the world find some films funnier than critics in other regions do.
Comedy films like Anchorman: The Legend of Ron Burgundy, Bridesmaids, Team America: World Police, and Shaun of the Dead were included in the list, demonstrating that great comedies have been made in the 21st century.
Toni Erdmann is the most recent film to make the top 100, while the oldest is Safety Last!
The article links to the full list of critics who participated and how they voted.
There is a separate page that describes what critics had to say about the top 25 comedies on BBC Culture's List.
Another page describes why Some Like It Hot is number one, discussing how its message on the fluidity of gender and identity and the acceptance of diversity is still relevant today.
Another page on the website focuses on whether comedy differs from region to region.
There is also a page describing whether men and women have different comedic tastes and a page investigating what makes it difficult to translate comedy from one language to another.

"https://www.looper.com/484395/best-comedy-movies-all-time/"
W provides a list of the 98 best comedy movies ever made.
The list contains movies from different eras, with the earliest being from the 1930s and the latest from 2023.
The list consists of movies from different sub-genres of comedy including romantic comedies, road trip comedies, and horror comedies.
The movies in the list are not ranked in any particular order.
Each movie on the list has a synopsis of its plot.
The list provides the following information about each movie:

Title
Director(s)
Year of release
Runtime
MPAA rating
Rotten Tomatoes score
Main cast members

The comedy movies on the list span different countries including the US, the UK, Canada, and France.
Some of the notable movies on the list with their synopses include:

The 40-Year-Old Virgin
Airplane!
Anchorman: The Legend of Ron Burgundy
Bridesmaids
Clueless
Dumb & Dumber
Ferris Bueller's Day Off
Groundhog Day
The Hangover
The Princess Bride
Superbad
Toy Story

At the time the article was last updated on April 3, 2023, these were considered to be the best comedy movies ever made.
The article mentions the diversity of movies in the list and how different sub-genres of comedy like horror-comedy have more recently emerged.
Each movie's synopsis captures its distinct tone, humor, and overall message.
The list of movies includes both new and classic films, making it an ideal guide for anyone interested in discovering or revisiting excellent comedy movies.
Some other notable movies on the list include The Producers, Tootsie, Coming to America, Four Weddings and a Funeral, The Birdcage, and Napoleon Dynamite.
The article encourages readers to watch every movie on the list, regardless of whether they are fans of comedies, as each film has something unique to offer.
There are links in the article for viewers to purchase and watch the films.

"100 All Time Greatest Comedy Films - IMDb"
Not used in article

"what are the best comedies of all time?"
Reddit post asking "what are the best comedies of all time?"
Posted 1 year, 4 months ago in r/movies; received 39 points
Request for classic comedy recommendations that fit within the "comedy" genre, not including movies that are so bad they're funny
Various users list their favorite comedies of all time, including (with accompanying karma points):

7 karma: "This movie is the best! :joy: I'm laughing just thinking about it." (no specific movie named)
23 karma: "Dumb & Dumber is lightning in a bottle when it comes to comedy"
3 karma: "Man this is SOO underrated." (no specific movie named)
21 karma: "Step brothers. always cracks me up without fail"
19 karma: "1. My Cousin Vinny, 2. Superbad, 3. Dumb and Dumber"
21 karma: Various classic comedy recommendations, including "Monty Python and the Holy Grail", "Animal House", and "The Producers"
19 karma: "South Park: Bigger, Longer & Uncut"
15 karma: "Best in Show, The Life Aquatic, The Grand Budapest Hotel, Superbad"
14 karma: "Office Space is a masterpiece for me… Black Dynamite is also funny as shit"
1 karma: "I threw that shit before I walked in the room!" (no specific movie named)
13 karma: "Airplane!, Caddyshack, Dumb and Dumber, Anchorman."
2 karma: "Renaissance Man"
10 karma: "Tommy Boy, Grandma's Boy, and Step Brothers… Tons of stuff from the 90s"
2 karma: "You forgot San DiAaago which of course in german means 'A whale's vagina'."
5 karma: "Young Frankenstein, La Cage Au Folle w/ Robin Williams & Nathan Lane"
8 karma: "Ace ventura: pet detective"
5 karma: "40 year old virgin"
6 karma: "Galaxy Quest, Princes Bride, Some like it hot

"Top 'Pure laugh-a-minute' comedy films since 00's?"
Users on r/movies discuss funny movies in response to a query by a user seeking "pure laugh-a-minute" movies.
Users mention films that are pure comedies and are not weighed down by deeper issues, but may include some timeless classics such as Airplane.
Some commenters shared their favorite lines or scenes.
There are occasional threads discussing which movies are the funniest.
The Hangover, Airplane, and Step Brothers are among the most recommended.
Other films mentioned include:

Superbad
Date Night
Anchorman
Tropic Thunder
21/22 Jump Street
Black Dynamite
Forgetting Sarah Marshall
The Slammin' Salmon
What We Do in the Shadows
Popstar: Never Stop Never Stopping
They Came Together
This Is the End
Four Lions
Observe and Report
The Nice Guys
Kung Pow: Enter the Fist

Commenters debate the merits of various films.
Some users include reasons why a particular film made their list.
A supposed study from the past is referenced, which lists Airplane and The Hangover as the top two most laughs-per-minute movies.
Users discuss the potential for sequels diminishing the reputation of a film.
A few commenters mention their favorite theater experiences with particular films.
Users suggest the possibility of enjoying a film more because they saw it as a kid or young person.
Users occasionally break from the topic to discuss other films or unrelated themes.
Some commenters will start a line of dialogue from the movie they're discussing in all caps.

"100+ Best Comedy Movies of All Time and Funniest Films Ever"
Not used in article

"50 Best Comedies of All Time - Best Comedy Movies to Stream - Esquire"
Not used in article

"What the funniest comedy movie you've ever seen?"
The webpage is a discussion thread on Reddit titled "What the funniest comedy movie you've ever seen?".
The thread was posted one year and eight months ago on the subreddit r/AskReddit and has 41,605 upvotes.
The post has 3277 comments.
The first commenter recommends "The Naked Gun" and says that Leslie Nielsen's deadpan delivery and expression in the face of stupidity is amazing.
Another commenter shares that Nielsen was originally a serious dramatic actor and was cast for "Airplane!" in order to make his delivery as serious as possible, which made it much funnier.
Multiple users recommend "Top Secret" as being made by the same production company as "The Naked Gun" and "Airplane!" and featuring non-stop jokes and classic sight gags.
Others recommend "What We Do in the Shadows", a mockumentary about vampires living in New Zealand.
Another movie that is recommended is "Best in Show", a mockumentary about a dog show.
Some users comment on Leslie Nielsen's performance and his role in other movies like "Forbidden Planet".
The commenters also mention different scenes and quotes from the recommended movies.
A user shares that "Police Squad!", a TV series that "The Naked Gun" movies were based on, is also worth watching and has all episodes available on YouTube.
Users also discuss comedy in general and what makes a movie funny.
The commenters engage in a humorous exchange of quotes and concepts.
Overall, the discussion showcases a diverse range of comedy movie recommendations and emphasizes the importance of humor and its subjective nature.
💭 Looking into
Key themes in comedy cinema
💭 Looking into
Top ten funniest movies ever made