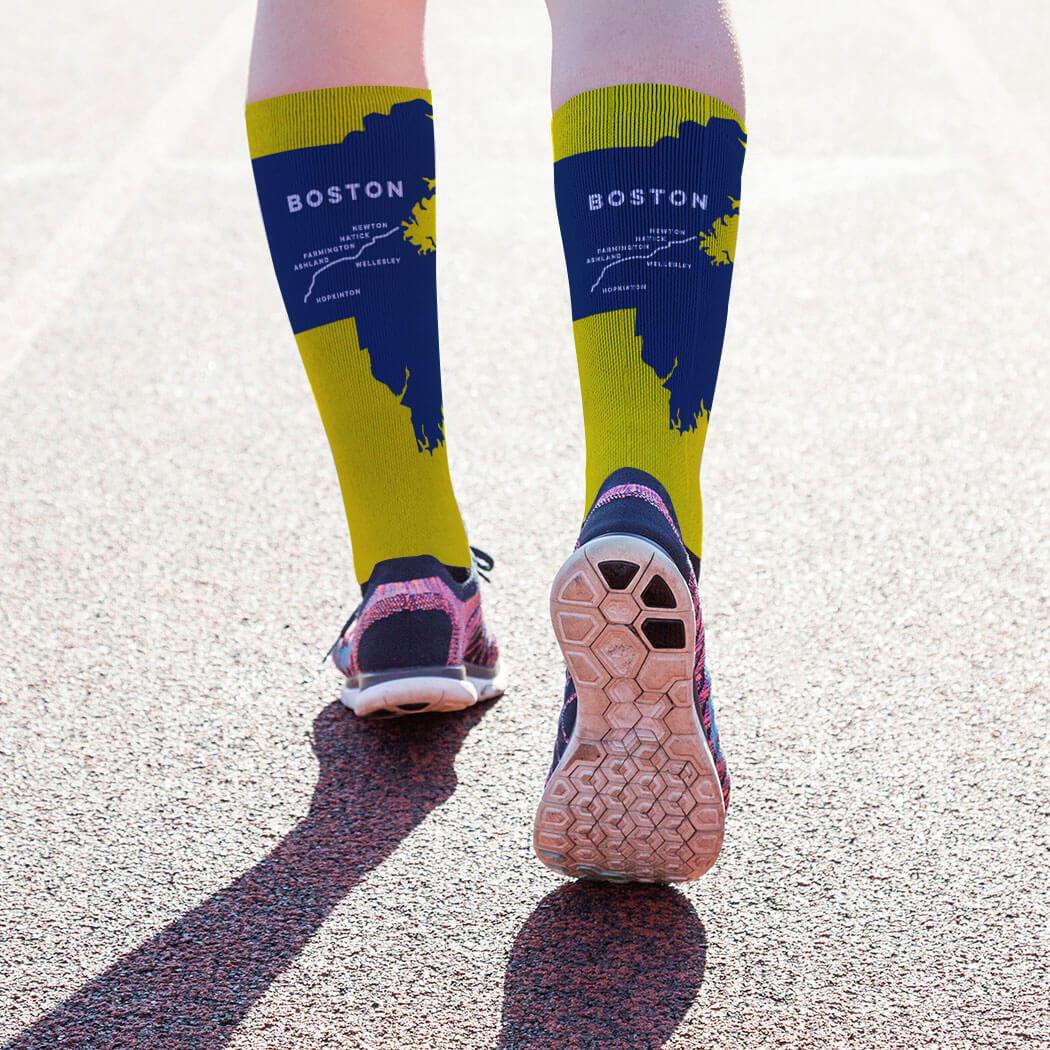 May 09, 2023
best running socks for marathon
I researched the best running socks for marathons by examining various sources, including review websites, a Reddit discussion, and articles on running gear. The sources provided a range of opinions and recommendations, with some consensus on popular brands and features. The top recommendations include Balega, Smartwool, Darn Tough, and Injinji, among others. While there was agreement on some aspects, individual preferences and experiences also played a significant role in the recommendations.
---
Jump to research
Composed by
U. T.
Have an opinion? Send us proposed edits/additions and we may incorporate them into this article with credit.
---
---
Jump to top
Research

"https://www.goodhousekeeping.com/health-products/g34828090/best-running-socks/"
Smartwool Run Zero Cushion Low Ankle Socks

Outperformed over 90 other pairs of socks in the tests
Made of fine merino wool, nylon, and elastane
Thickness of only 1 millimeter to not affect the fit of shoes
Thin and moisture-wicking for sweaty feet
Most durable across all Lab tests
Heel shield helps sock stay in place
Not ideal for those who prefer cushioned running socks
Targeted cushioning in places prone to blisters, including the heel and toe, in a more cushioned pair

Saucony Performance Heel Tab Athletic Socks

Much cheaper than other running socks
Approved for all types of workouts
Padded bottom for added cushioning
Not ideal for those with sweaty feet
Inferno No Show Tab Socks are tailored more specifically for running, with targeted compression and a seamless toe, and they're still pretty affordable

On Performance Mid Sock

Seamlessly designed and moisture-wicking fabric
Targeted cushioning and compression
Sweat-wicking fabric
No irritating top seam
Lower abrasion resistance scores in the tests

Darn Tough Run No Show Tab Ultra-Lightweight Running Sock

Ultra-lightweight feel, rapid moisture-wicking fabric
Protective heel tab and a seamless toe
Designed to provide targeted arch support
Lifetime warranty
Comparison to the brand's popular hiking socks

Feetures Elite Max Cushion No Show Tab

Provide much-needed underfoot protection
Targeted compression for arch support
Moisture-wicking and quick-drying fabric
High scores in Lab tests
Cushioned socks tend to have lower abrasion resistance in the tests

Balega Hidden Comfort Running Socks

Moisture-wicking polyester fabric with mesh ventilation and a plush, cushioned sole
2,000+ reviews on Amazon
Hasn't been tested in their Lab yet

Icebreaker Run+ Ultralight Mini Socks

Temperature-regulating merino wool blend
Scored high in Lab evaluations
Left and right contoured fit
Some shrinkage than other running socks

CEP The Run Compression Tall Socks

"https://www.outdoorgearlab.com/topics/shoes-and-boots/best-running-socks"
The webpage reviews four best running socks of 2023.
The Balega Blister Resist Quarter is rated as the best overall running sock due to its excellent cushioning and comfort, great ventilation, and durability.
The synthetic construction feels soft and comfortable against the skin, with padding exactly where it's needed, protecting the foot from underfoot hazards like rocks, roots, and sand.
The thinner construction across the top of the foot and under the arch enables ventilation, even on warm days.
There are different styles for both men and women with a great fit and excellent durability.
The only caveat is it may not be an ideal option for the hottest summer days, given the mid-weight level of cushioning.
The Swiftwick Aspire Zero is rated as the best bang for the buck with a lightweight and specific fit design, great wicking and breathability feature.
The hydrophobic olefin fibers make the Swiftwick Aspire Zero a great option for sweat-wicking and breathability, and at a more affordable price than others tested.
The sock has little cushioning, some slippage, and requires a tighter fitting shoe to avoid slipping when worn in wider, sloppier shoes.
The Balega Silver No Show is rated as the most comfortable cushioning sock with a well-fitted design, but padding is not specific.
Unlike some of the more intricate designs, the entire bottom of the foot has full padding with slits for ventilation.
The Injinji Trail Midweight Mini-Crew is rated as the best toe sock with plush cushioning, toe-sock design for enhanced toe spread, and soft materials. It is unique, wrapping each toe individually, avoiding blisters, and improving balance while running.
The extra work to put them on and the toe splay is a little out of the normal, but it's worth trying.
The webpage also provides other highly rated running socks with their pros and cons, scores, material, cushioning, and reasons to buy or avoid.
The DryMax Running Mini Crew is another low-priced synthetic that does not have the best fit for women.
The range of the cost for socks is small, but the real value is in how many miles you can put in before needing a new pair.
Durability is important to look at in addition to the price. Balega Blister Resist and Darn Tough Run Coolmax No-Show Tab Ultralight are good-value options

"https://www.runningwarehouse.com/learningcenter/gear_guides/apparel/best-running-socks.html"
This webpage is titled "The Best Running Socks of 2023| Gear Guide" and was updated on January 1, 2023.
The article provides a list of recommended running socks for the year 2023 to make the search for the perfect pair of socks easier.
The following are some of the recommended running socks:

Balega Hidden Comfort No Show Socks

Provides extra cushioning for a plush underfoot feel
Deep heel pocket to secure the fit
High tab heel to prevent slipping and protect Achilles from blisters
Uses Drynamix fabric for moisture-wicking and airflow properties

ASICS Cushion Low Cut Socks 3-Pack

Three pairs of socks for a week's worth of running
Provides moderate cushioning for underfoot comfort
Breathable mesh panels for added ventilation

Balega Blister Resist Socks

Uses natural mohair fiber to reduce friction, block odor, and improve durability
Mesh panels add ventilation to keep feet cool
Wide arch band offers enhanced support and comfort
Comes in various heights, such as no-show or crew

Balega Enduro Quarter Socks

V-Tech arch band and deep heel pocket to secure the fit and prevent slippage
Padded cushioning underfoot improves comfort and adds impact protection
Specialized Drynamix fabric to remove sweat quickly to keep feet cool and dry

Feetures HP Ultra Light No Show Tab Socks

Ultra-thin construction takes up minimal room inside the shoe
iWick fibers quickly wick sweat to keep feet dry
Supportive arch band provides a snug fit

Saucony Inferno Wool Blend Socks

Blended with Merino wool and zoned mesh venting for breathability
Resists blisters and unwanted odor
Convenient 3-pack for a week's worth of training

Balega Hidden Dry No Show Socks

Minimal feel with added mesh vent panels to keep feet dry during warm-weather runs
Deep heel pocket and supportive arch band ensure a secure fit
Heel tab prevents the socks from slipping

Feetures HP Cushion No Show Tab Socks

Moderate cushioning in high-impact areas for added protection without added bulk
Low profile with a rear

"https://www.runnersworld.com/gear/a20809978/the-best-socks-for-runners/"
Editor's Note: The article reviewed sock selections on May 5, 2023 and updated sock recommendations to reflect the latest testing results. Any pairs of socks that were out of stock or no longer available have also been replaced.
Runners need to pay attention to the details of running socks, which play an important role in keeping the feet dry, warm, and cool.
The article features a list of the 16 best socks for running, with variations in sock height, cushioning, and material that will suit runners' preferences.
Several brands are mentioned and reviewed, along with their pros and cons.
Socks made from merino wool and synthetic fabrics are recommended over cotton because they offer advantages such as moisture-wicking, durability, and temperature control.
A vertical moisture-wicking test was conducted on every sock to assess its ability to handle sweat and moisture. Six-inch-long by one-inch wide strips were cut from the socks and suspended from a support stand, and the amount of time it took for blue-dyed water to migrate roughly two inches up each fabric strip was measured.
The thickness of a running sock can make each step feel softer and take up the extra room within a shoe, so a thicker sock is often suggested to adjust a shoe's fit, especially if it fits a little loose.
Unless someone is hitting the trail, sock length is a matter of personal style. Crew-length running socks have made a comeback in recent years, but shorter socks offer improved performance value.
The article also provides specific information on sock heights, including the cuff heights of no-show, ankle, quarter, and crew socks.
The article discusses what more cushioning feels like, ranging from no cushioning to max cushioning.
The pairs of socks included in the article are top-performers in tests conducted by experienced runners, and have been noted for their qualities such as comfort, value, durability, and odor control.
The article provides specific pros and cons for each sock pair mentioned.
The article also describes features such as arch and heel compression and specific fits (men's, women's, left and right), along with key specifications including cuff heights and cushioning.

"https://runninggearlab.com/best-running-socks/"
The article presents a list of the top 10 running socks to prevent blisters in 2023, rated based on research from 32 products.
The selected products offer moisture-wicking materials, high-volume cushioning, seamless toe boxes, and arch support for blister prevention.
The article includes detailed reviews of the top products, including their features, benefits, and drawbacks, as well as comparisons between them.
Balega Blister Resist No Show Socks is the top pick, offering synthetic materials and wool from mohair that provide both comfort and performance. The fabric is moisture-wicking and comes in a variety of fun colors.
Darn Tough Hiker 1/4 Cushion Sock is the top running sock for winter and trail running. The blend of nylon, lycra, spandex, and merino wool provides durability, stretch, and breathability. Merino wool regulates body temperature and the quarter length height protects your ankles from twigs and crickets.
Injinji Men's Ultra Run No-Show socks offer toe sock design that prevents friction between toes and comes in various colors. The top of the sock provides breathability and wicks away moisture. The fabric also offers comfortable arch support.
Swiftwick- ASPIRE ONE Running Sock is a synthetic sock made from 53% Nylon, 39% Olefin, and 8% Spandex. The toe is seamless to prevent blisters. The sock runs small.
Wrightsock Anti-Blister Double Layer Running Socks have seamless toes and double layers that reduce friction. They also provide compression in the arch area.
Feetures Elite Max Cushion Quarter Sock offers target compression, performance wicking material, and a seamless toe box. They're made in the United States and offer padded cushioning in the heel and toes, as well as the seamless design, to prevent unwanted blisters.
Smartwool Women's PhD Run Cold Weather Mid Crew has warmth, moisture-wicking fabric, and a seamless toe box. They're a crew length sock that is perfect for winter running as you can tuck them into your tights to make sure your ankles are covered from the elements.
CEP Ultralight Short Socks offer ankle stability, lightweight breathability, and a compression sock design. CEP claims that the Ultralight Short Socks are 30% lighter than our Merino model.
Vitalsox Compression Socks are available in either a No-show or Quarter Length, and offer compression

"Best running socks for long runs."
Not used in article

"Best socks for long runs?"
Not used in article

"https://www.verywellfit.com/what-type-of-socks-should-i-run-in-2911844"
Running socks can make a significant difference in a runner's performance and prevent discomfort
Wearing the wrong type of socks for running can lead to foot blisters, chafing, corns, and other issues
Choosing the right material is crucial when picking the right socks for running
Socks made with synthetic materials such as polyester, acrylic, and CoolMax are the best choices as they wick moisture away from the skin
Cotton socks should be avoided since the moisture stays in the sock, leaving the feet feeling cold and clammy in winter and leading to an increased risk of blisters in summer
Wool blends can also be a good choice for winter running, and modern wool blends like SmartWool are made with "itch-less" wool that is less likely to irritate the skin
Running socks should fit snugly without bunching up in the shoes and irritate the skin, so choosing the right shape is crucial
Look for a breathable and anti-chafing material for all running clothes, and running socks that have an elastic arch lock to keep the socks in place
Anatomic shape of the socks also matters because they hug the contours of the feet; some socks even provide added arch support while running
Double-layer socks can provide extra blister protection, and some running socks have padded soles for extra cushioning
Seam-free toe sections can further reduce the risk of blisters
Running socks come in different heights from no-show to knee-highs; runners wearing no-show socks must ensure that the sock's tab goes above the running shoe and over the Achilles
Compression running socks or compression sleeves have become popular with runners as they have a very snug fit and can help return blood flow up to the heart
Compression socks are often used for post-run recovery, and some runners wear them during workouts for medical-grade materials
Look for a running sock that provides the right balance of cushioning, breathability, moisture-wicking, and comfort to prevent discomfort and improve performance.

"Best socks to race a marathon in?"
A Reddit user wrote a post seeking recommendations for the best socks to wear while running a marathon in two weeks.
Comments revealed a variety of preferences for different brands and types of socks.
Suggestions for brands included Feetures, Gold Toe Powersox, Darn Tough, Smartwool, Injinji, Stance, and Balega.
Balega appeared to be the most commonly recommended brand.
Multiple users praised Balega Hidden Comfort socks for their effectiveness and comfort.
Another popular suggestion for marathon socks were those made with merino wool, specifically Darn Tough coolmax and Smartwool crew running socks.
Injinji toe socks were also a popular choice among some users, with several recommending them specifically for marathon and long-distance running.
Some users emphasized the importance of sticking with the same socks they trained in to avoid discomfort or blisters on race day.
There was some debate around running barefoot or without socks, with one user advocating for this, citing the Tarahumara tribe as an example of individuals who can run long distances without socks despite wearing leather sandals.
Others responded by pointing out potential problems with running barefoot or without socks, and the significant advantages of wearing padded and reinforced running socks instead.
Some users praised specific features of their preferred socks, such as left and right sock specificity, toe articulation, and the lifetime guarantee offered by a certain brand.
There were also recommendations for certain sock thicknesses depending on the weather and terrain conditions.
Some users expressed a willingness to try new socks, but with the caveat of ensuring they had enough time to break them in before race day.
Others noted that any new gear could have unpredictable effects and suggested avoiding introducing anything new just before or on race day.

"Running Sock Recommendations"
Not used in article
💭 Looking into
Factors to consider when selecting running socks for a marathon
💭 Looking into
Top 5 running socks recommended by professional marathon runners